New state-of-the-art video scoreboard ready to wow crowds at Finnie Stadium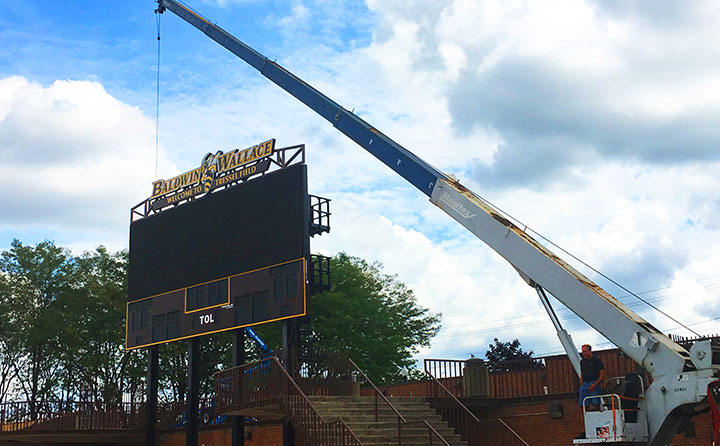 In the ever changing landscape of fan interaction, Baldwin Wallace University is lighting up a state-of-the-art video scoreboard to be utilized during all events inside The George Finnie Stadium.
Construction of the new video scoreboard, one of the largest in all of NCAA Division III, was completed today. It measures 21 feet, 11 inches high by 36 feet wide, with a video area that can be divided into five separate zones.
"BW is excited for the opportunity to update our stadium facilities with this new scoreboard and the modern technology it will provide," said Director of Athletics Kris Diaz '78. "The new board will enhance the game day atmosphere, allow BW to tell its story via game day presentations and create additional marketing opportunities for the University."
Media production learning lab for students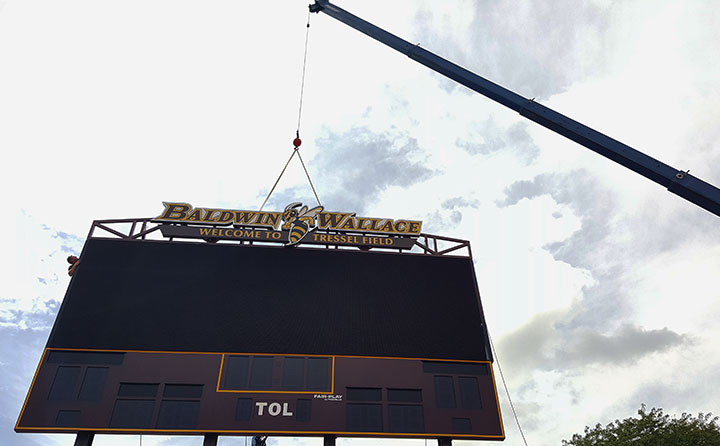 In addition to all the in-game opportunities, BW will offer an experiential learning opportunity for broadcasting and mass communication, and sport management majors to work directly with the video scoreboard system. Students will gain hands-on experience in content management along with directing and producing in-game media. 
"This latest partnership between athletics and academics will create a learning lab for BW students that will enhance all activities at the stadium," stated Diaz.
Added community benefit
The previous scoreboard which was a mainstay in Finnie Stadium since the stadium's inception was taken down in early July. Construction of the new video scoreboard took approximately four weeks to complete.
The features of the enhanced scoreboard will also be on display for fans of Berea-Midpark High School during five home football games this fall.
The video scoreboard will make its debut on Thursday, Sept. 1 when the Yellow Jacket football team opens the season with a non-conference game against Defiance College in the 39th Annual Lee Tressel Shrine Classic at 7 p.m. Berea-Midpark is scheduled to play its first home football game the very next night on Friday, Sept. 2 when the Titans host a Southwestern Conference game against Lakewood High School at 7 p.m.