BW Dining Services Chef Wins 'Tastes of the World' Culinary Awards
It takes a whole lot of food to feed thousands of hungry college students three squares a day, but the pride in preparation shines for BW dining services employees who make meals as a labor of love.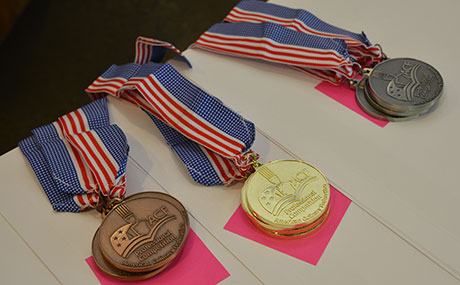 For Julia Fathauer, BW production chef, that includes gaining knowledge, skills and recognition at this year's Tastes of the World Chef Culinary Conference held at the University of Massachusetts-Amherst.
Culinary Competition
Representing Baldwin Wallace in various cooking competitions, Fathauer claimed two first place ribbons, as well as a bronze medal in the final American Culinary Federation-sanctioned Culinary Competition.
The UMass culinary conference is the premiere gathering for high-volume food service operators and campus chefs who learn more about world cuisines and flavor trends in an intensive, hands-on environment.
Bringing world cuisine back to BW
Working side-by-side with culinary masters and other chefs from North America, Fathauer learned new culinary skills at the conference, which embraced health, sustainability and food ethics with a theme of "Food is Medicine and Food is Love." She says she is now incorporating those skills and new ideas into her work at BW.
Fathauer adds that she felt like she "traveled the world" in a single week. "It was an incredible experience to work with, brainstorm and learn from famous chefs and other chefs from other colleges and universities across America and the world," she tells us. "Food is preventive maintenance medicine and for chefs, our love of food helps to feed, take care of, enable and drive the success of those we serve."