Baldwin Wallace CRI Poll Shows Divide in Northeast Ohio Views of Public Safety
Results from a new Baldwin Wallace University Northeast Ohio poll reveal a deep divide in the perceptions of public safety, policing and race among whites and non-whites, City of Cleveland and suburban residents. Non-white respondents (largely comprised of those who identify as black/African American) are more likely to feel less safe in their neighborhoods, have less faith in the police to protect them, and to be less optimistic that racial tension in the U.S. will be resolved in the future.

A segment of The 2016 Greater Cleveland Quality of Life Study, conducted by BW's Community Research Institute (BW-CRI) in late 2015, examined the attitudes of residents in a seven-county area on neighborhood safety, confidence in police and racial tension.
Divided Confidence in Police, Concerns about Crime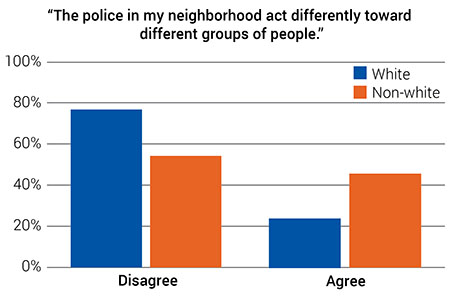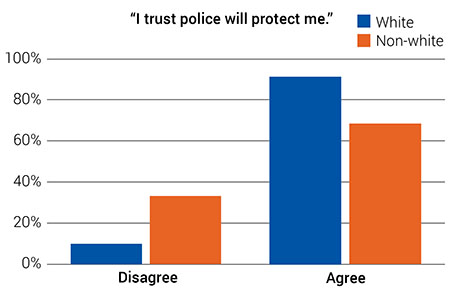 Among the contrasting public opinion on safety and policing:
Residents of Cleveland have much less confidence in the ability of the police to protect people in their neighborhood. They are also twice as likely to believe that police act differently towards different groups of people.


Whites are far more likely to rate the professionalism of their police department as good, and are two-and-a-half times (151%) as likely to agree that the police will protect them. In addition, whites are much less likely to believe their police department acts differently towards different groups of people.
Perception vs. Reality: Personal Experience
When asked about their personal interactions with authorities, a large majority (83%) of respondents said they were treated "reasonably well" or "very well" when they approached the police for help. Younger males living in Cleveland were more likely to report being treated poorly during their self-initiated encounters with police, but race did not influence this result.
"Our finding is consistent with recent Bureau of Justice Statistics' data, which shows that most people believe the police acted properly when they were asked for assistance, but that data varied by race," said Julie Newcamp, PhD, BW professor of sociology and criminal justice. "In contrast to the national survey, our result on this question was one of the few instances where race was not a significant factor."
When police initiated the contact, perceptions of treatment did vary by race. More than 60% of the sample reported that they've been stopped or approached by the police in the past, with 72% of these respondents describing how police treated them during the encounter as "reasonably well" or "very well." For this question, race, gender, age and place of residence all made a difference. Those who reported "poor" treatment are more likely to be male, non-white, younger, and residents of Cleveland.
Contrasting Views on Racial Bias in Policing, Hope for the Resolution
Across the seven-county area, residents are split down the middle when asked if recent killings of unarmed African American men police in Ferguson, Missouri and New York City are either "isolated incidents" or "a sign of broader problems in treatment of African Americans by police." People who believe the incidents were a "sign of broader problems" were, on average, better educated, non-white, and more politically liberal.
"This is one of the few instances where ideology mattered," said Lauren Copeland, PhD, BW political science professor and associate director of CRI. "We were surprised that ideology and partisanship didn't play a stronger role in structuring people's responses."
Other results on race show:
Slightly more than half of those surveyed report that tension between different races is not a problem in their neighborhood, with a third describing racial tension a "minor problem" and 17% reporting a "major problem."
Residents of Cleveland are significantly more likely than their suburban counterparts to report tension between races as a problem in their neighborhoods.
On a broad scale, survey participants were pessimistic about the prospect of the U.S. healing its racial divide, with nearly two-thirds agreeing with the statement that "relations between blacks and whites will always be a problem for the United States," versus 36% who agreed that "a solution will eventually be worked out." People who anticipate an unrelenting problem tended to be non-white, younger, and better educated.
"Recent survey research shows high awareness of race and justice issues among millennials and college students, punctuated incidents like recent demonstrations at the University of Missouri, and recent protests over the grand jury decision in the Tamir Rice shooting," said Tom Sutton, PhD, BW political science professor and CRI director. 
About the 2016 Greater Cleveland Quality of Life Study and CRI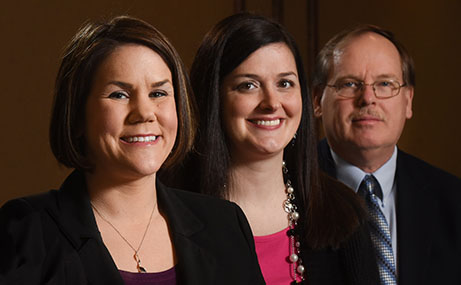 The Baldwin Wallace CRI study was conducted in two rounds (Oct. 7-19, 2015 and Nov. 10-Dec. 3, 2015) using online panel data with quotas in place for gender and age (margin of error +/- 4 percentage points). Although the initial sample reflected the social and demographic make-up of the seven-county area, an additional round of collection occurred in late November and early December to oversample African American and Latino respondents. Follow this link to access the complete report.
Founded in 2005 at Baldwin Wallace University (BW) in Berea, Ohio, the Community Research Institute (CRI) conducts regional, statewide, and national surveys for government agencies, nonprofits, foundations, community-based organizations, businesses, and the media. CRI also offers BW students opportunities for mentored experience in social science research.
(Professors Copeland, Newcamp and Sutton are pictured, left to right, above.)
Media Coverage of this CRI Poll
On WKYC TV 3
On WEWS TV 5
On WKSU Radio