CRI Election Poll Shows Ohio Governor Tied with Trump, Democrats Deadlocked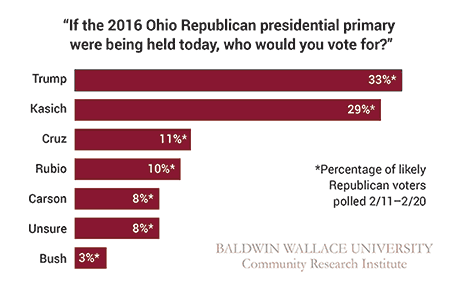 Ohio Governor John Kasich is in a virtual tie with GOP presidential front-runner Donald Trump – with Senators Ted Cruz and Marco Rubio in second and third place, respectively – among likely Republican voters in Ohio according to a new Baldwin Wallace University statewide election poll.
The BW Community Research Institute (BW-CRI) survey, conducted between the New Hampshire and South Carolina primaries, also shows a tight race among likely Democratic voters between former Secretary of State Hillary Clinton and Vermont Senator Bernie Sanders. Ohio voters go to the primary polls on March 15.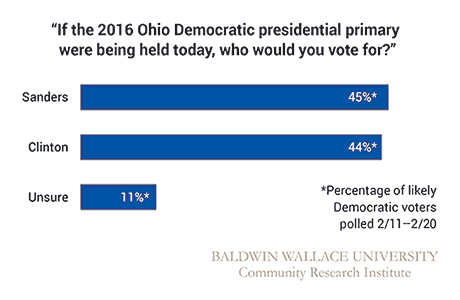 "A lot can happen between now and the Ohio primary, including the influence of Super Tuesday (March 1), but we see some interesting results in this snapshot," said Tom Sutton, political science professor and director of the BW-CRI. "Governor Kasich has been out of the state campaigning for higher office, but he's held onto high approval ratings (62% in this poll) and makes a very strong showing as a presidential contender with Ohioans who know his work as governor."
Head to Head General Election Match-ups
In hypothetical general election matchups, voters of all political stripes in this battleground state prefer Kasich to either Clinton or Sanders by equally wide margins (Kasich 55% - Clinton 34%; Kasich 52% - Sanders 35%).
Trump, on the other hand, is locked in a statistical dead heat with Clinton, the choice of 39% of all likely Ohio voters to 37% for Clinton. Meanwhile, Sanders (who has lined up a rally at Baldwin Wallace University on Thursday morning) is able to beat Trump 43% to 38%.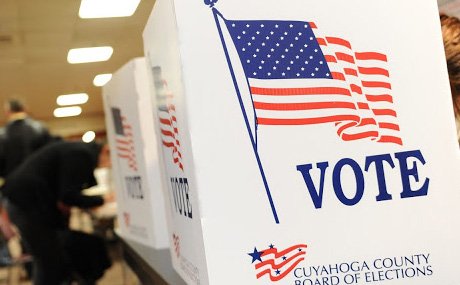 "Sanders' strength over Trump is surprising given that 59% of the self-described Independents in our poll lean Republican," said Lauren Copeland, political science professor and associate director of the BW-CRI. "However, both Trump and Sanders have populist messages that appeal to an electorate that's increasingly frustrated with politics as usual in Washington. Additional analyses showed that Sanders draws support from more Independent and Republican voters than Clinton; among these voters, Sanders may be perceived as the lesser of two evils."
Additional Results
The survey also asked voters about the issues that are influencing their choice of candidates in the 2016 presidential election, with the economy rated as most important.Additional results:
When asked to choose only between Trump and Kasich, a clear majority emerged for Kasich (55%) over Trump (38%).


While they support their governor, half of Ohio's GOP voters believe Trump will be the party's nominee, with just 6% saying Kasich will end up on the top of the ticket; one in five remain unsure who will emerge as the GOP standard bearer.
Among likely Democratic voters, 49% would like to see the next president continue Obama's policies, but 34% want to move in a different direction. Clear differences emerge between Clinton and Sanders supporters, with a plurality of Sanders supporters wanting to move in a different direction (42% of Sanders supporters to 27% of Clinton supporters).


A near majority of respondents would like to see a Republican capture the White House in 2016 (49%), with 38% preferring that a Democrat remain in the Oval Office, and an additional 8% undecided.
Hypothetical match-ups:

Trump v. Clinton: It's a tie (39% to 37%, respectively) with 20% of likely voters expressing that they wouldn't vote for either candidate, and an additional 4% undecided.
Kasich v. Clinton: Kasich wins with 55% of the vote to Clinton's 34%.
Trump v. Sanders: Sanders wins 43% to 38%; and suggests that the populist message is popular among both liberals and conservatives.
Kasich v. Sanders: Kasich wins with 52% of the vote to Sanders' 35%.
Ted Cruz has a likeability issue. When we asked respondents who they'd rather have a beer with, only 12% cited Cruz; 34% chose Trump, 32% chose Sanders, 29% chose Kasich, and 27% chose Clinton.What's on voters' minds? The economy is the most important consideration, followed by terrorism, healthcare, the federal budget, foreign policy, immigration policy, the environment, and abortion.
Donald Trump led with pluralities as the most qualified candidate to handle immigration (30%), terrorism(32%), the economy (48%), and foreign policy (25%). For each issue, respondents answering 'Don't Know' came in second, with Kasich cited as the next most qualified candidate to handle these issues.
In a hypothetical general election match-up for the U.S. Senate seat in Ohio, incumbent Republican Rob Portman gets 44% of the vote versus 40% for Democrat Ted Strickland, with 16% undecided. Partisans were equally likely to support their respective party's candidate; Independents are 14 percentage points more likely to support Portman over Strickland.
Strickland is a better bet for people who want Democrats to pick up U.S. Senate seat. In a hypothetical match-up between incumbent Republican Rob Portman and Democrat P.G. Sittenfeld, Portman wins (51% to 26%, respectively), with 23% undecided. This comes as little surprise since 66% of likely voters "haven't heard enough" about Sittenfeld to form an opinion about him either way.
About this Baldwin Wallace University CRI Poll
The BW-CRI study was conducted during the period of February 11-20, 2016 among 825 likely Ohio voters using online panel data with quotas in place for gender, age, and region (i.e., Northeast, Northwest, Central, Southeast, and Southwest Ohio). To qualify as a likely Ohio voter, respondents had to meet three criteria: (1) they were "absolutely certain" they were registered to vote; (2) they had given "quite a lot" or "a moderate amount" of thought to the upcoming presidential election; and (3) and they had either voted in the 2012 U.S. presidential election or were not eligible to vote. In addition to questions asked of all respondents (margin of error +/-3.4%), a subset of respondents who identified as Republican or as closer to the Republican Party received additional questions about the GOP primary race (N=440, margin of error +/- 5%). Similarly, a subset of respondents who identified as Democrats or as closer to the Democratic Party received additional questions about the Democratic primary race (N=385, margin of error +/-5%)