Student-led 'Campus Election Engagement Team' strives to make young voices heard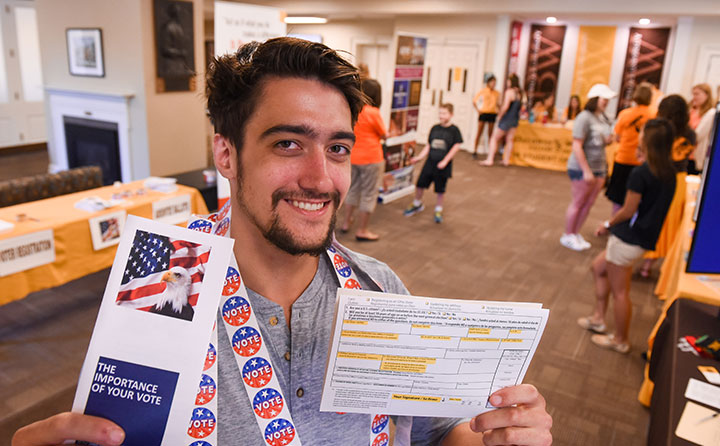 In a national election year that has many young voters recoiling from the major party candidates at the top of the ticket, a new student-led "Campus Election Engagement Team" at Baldwin Wallace University is working hard to challenge student disillusionment and apathy. 
The team is led by student director, Adam Ross '17, a Navy Veteran from Amherst, Ohio, who does not find the unusual nature of the election daunting. "Any election is going to be difficult," Ross says. "It's hard to get young people involved because the issues at stake rarely affect us directly here in our bubble. This isn't a bad thing, but it does make engagement challenging."
Just Getting Started
Ross, a history and international studies major, is passionate about the idea that every individual voice matters. "I believe that the only way to really fix issues in this country's policies, both foreign and domestic, is to force the government to do the will of the people, rather than cater to the wishes of big donors," Ross says. "Politicians are supposed to be public servants," he adds. "That seems to be forgotten in this day and age."
Ross and his team manned a voter registration and information table at all summer orientation sessions for incoming first-year students and they are just getting started. "We will have information sessions for down ballot races, student debates, debate watch parties and, of course, voter drives throughout the semester," says Ross.
An Opportunity for Civic Engagement
BW's Election Engagement Team is a new program housed in BW's David and Frances Brain Center for Community Engagement. "We conducted student surveys on our community engagement programs last year and saw an opportunity in the area of civic engagement," said Julie Robinson, associate director of the Brain Center.
"Establishment of this program ties back to the BW mission of developing contributing, compassionate citizens," Robinson adds. "Our goal is to develop active and informed voters at BW in election and non-election years."
Ties to National Student Movement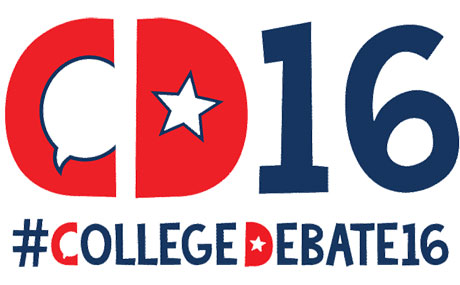 To support his project leadership at BW, Ross serves as an Ohio delegate for College Debate 2016, a national, non-partisan initiative to empower young voters to identify issues and engage peers in the presidential election. 
Following a College Debate conference in Los Angeles in June, Ross began putting ideas gained there into action back home-- creating a social media campaign that includes videos of BW students championing issues of importance to them. You can view the videos on the Jackets Engaged Facebook page. 
Voices of Democracy
Also aligning with the goals of the project, The Brain Speaker Series is bringing Paul Loeb, author of "Soul of a Citizen" and founder of the Campus Election Engagement Project, to BW on September 15.
Loeb's appearance is also part of Voices of Democracy, BW's 2016-17 series of free lectures and panel discussions exploring the issues driving the 2016 election and beyond. The influential and thought-provoking "voices" follow Loeb in the series include former House Speaker Newt Gingrich, activist and CNN political commentator Van Jones, and ABC News correspondent and host of "What Would You Do?", John Quiñones.