Summer Scholars Take Deep Dive into Research, Creative Studies
They researched, navigated and broke new ground in their studies. They challenged themselves and others to forge new viewpoints as they worked together on projects that were intense and real-world focused.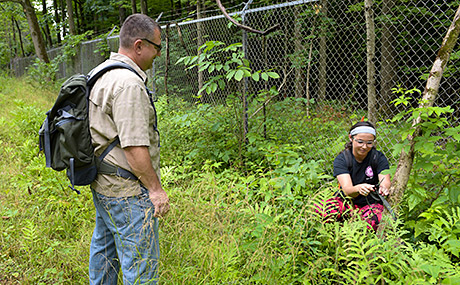 For 10 weeks, 11 students united living and learning through participation in BW's Summer Scholars program.
This collaborative, enriching program enables students to pursue a research or a creative project of their own design under the supervision of a faculty mentor.
In addition to their studies, the scholars lived together on campus and regularly shared their research with one another through weekly meetings.
"Opportunities like this are helping prepare me for my career goal of being a vet," explained Erica Morgan '17 (pictured with faculty mentor Dr. Chris Stanton). "Faculty-student collaboration enriches your learning and research helps you develop critical thinking skills."
Also in agreement with the benefits of working alongside a faculty member doing research is Georgina Hasrouni '18 (pictured with faculty member Dr. Vinitha Subburaj), who said she enjoys the opportunity of expressing herself more freely and creatively through the design of a project she developed.
This year's 2016 BW Summer Scholars include:
William Anastasiadis '18 of Warren (Ohio)
Neuroscience psychology major
Worked with Dr. Clare Mathes on The Effect of Brainstem Dopamine D2 Receptor Antagonist on Sucrose Taste Detection in Male Sprague-Dawley Rats
Eric Dahl '17 of Lawrence (Pa.)
Theatre major
Worked with Dr. Les Hunter on Voyager Golden Record Theatre Project
Alyssa Grygiel '17 of Parma (Ohio)
Biology major
Worked with Dr. Michael Bumbulis on the Continuation of the Characterization of Apoptotic Pathways in Euglena Gracilis
Georgina Hasrouni '18 of Brunswick (Ohio)
Software engineering major
Worked with Dr. Vinitha Subburaj on the Design of a Mobile App for Empowering New College Students
Andrea Huther '17 of Akron (Ohio)
Biology major
Worked with Dr. Michael Kovach on Immunological Effects of Colostrum of Adult Rats
Erica Morgan '17 of Brook Park (Ohio)
Biology major
Worked with Dr. Chris Stanton on Determining Coyote (Canis Latrans) Population Dynamics and Potential Threats at Crowell-Hilaka (site located in Summit Co, Ohio)
Yousef Mustafa '18 of Westlake (Ohio)
Biology and chemistry major
Worked with Dr. Lisa Ponton on the Application of Genetically Modified Strains of Yeast (S. Cerevisiae) in Bioassays for Estrogenicity in Wastewater Effluents
Patrick Peralta '17 of Westlake (Ohio)
Guitar performance major
Worked with Dr. Julian Ross on Developing Pedagogic Approaches for Guitar Based on Well-Established Violinistic Traditions
Agrima Pradhan '16 of North Olmsted (Ohio)
Biology major
Worked with Dr. Karen Munroe on The Effect of Invasive Species of Earthworms in the Cleveland Metroparks
Andrew Ross '17 of Amherst (Ohio)
Theatre major
Worked with Professor Adam Heffernan on The Elizabeth Codex: Uncovering the Hidden Political, Religious and Social Ideologies of William Shakespeare
Winifred Wilson '17 of Cleveland (Ohio)
Psychology major
Worked with Dr. Deb Esty on Microaggressions Effects on Stereotype Threat