Baldwin Wallace CRI poll shows Hillary Clinton surging ahead in Ohio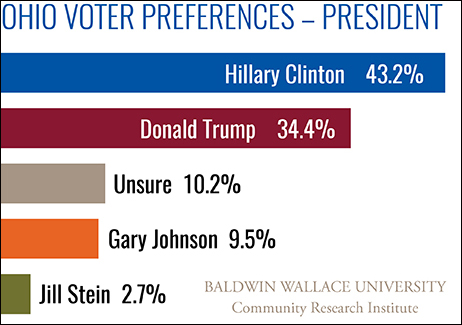 A new Baldwin Wallace University Community Research Institute (CRI) statewide poll of likely Ohio voters shows Democrat Hillary Clinton opening a double digit lead in a head to head match-up with Republican nominee Donald Trump, 48% to 37%, with 14% unsure. In a four-way race, Clinton still leads by 9% (43% to 34%) with the two third party candidates drawing 13% of the battleground state's voters and another 10% remaining "unsure." Clinton is winning Independents (36% to Trump's 30%) and attracting one in ten Republican voters.
"For decades, Ohio has been one of the most reliable bellwether states in the country," said Lauren Copeland, Ph.D., BW political science professor and associate director of the BW CRI. "When the polls showed Trump in the lead [before the first presidential debate], some suggested that Ohio's importance in electoral politics might be declining. However, with less than four weeks to go until the general election, our results are consistent with other recent national polls, and suggest that scholars and pundits shouldn't write off Ohio's presidential predictive power just yet."
Casting votes against, not for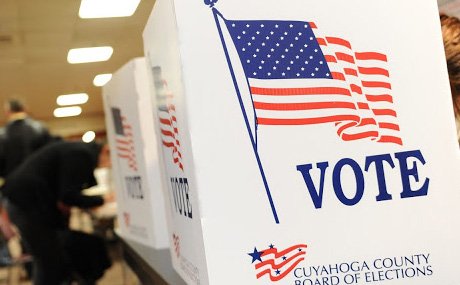 Deep dissatisfaction with both major party candidates is reflected in questions that asked about the main motivation behind voter choices. Some 47% of Clinton backers say their vote is less about support for her and more about stopping Trump from becoming president, and 63% of Trump voters characterize their choice as a vote against Clinton. Among survey respondents planning to vote third party, 75% saying they're mostly motivated by "dislike" for both major party candidates.
"A large percentage of Ohio's electorate is most passionate about who should not be president," said Tom Sutton, Ph.D., BW political science professor and director of the BW CRI. "The core support for each of the major party candidates has stayed largely unchanged, but the bad news for Trump is that more of the undecideds—and some third party supporters—who are now coming off the fence are moving to Clinton."
Ohioans pick a clear debate winner
The BW CRI survey, conducted after Sunday's presidential debate, asked the 59% of respondents who said they watched the town hall-style forum to name the winner. More than half (52%) said Clinton bested Trump, about a third (31%) said Trump gave a superior performance, and 17% called it a tie.
Did the debate move the needle on opinion? Almost 31% of debate watchers say they now hold a "more favorable" opinion of Clinton versus 26% "less favorable," while 41% had "less favorable" post debate opinions about Trump to 21% "more favorable." One in five say the debate had impact on their vote one way or another, a finding that was true across all party lines.
When asked to choose which candidate best matched a series of statements about debate performance, by wide margins, more Ohio debate watchers thought Clinton "was more likable," "expressed her views more clearly," "seemed to be the stronger leader" and "spent more time discussing policy," while Trump "spent more time attacking [his] opponent."
Portman up by double digits in US Senate race
In Ohio's U.S. Senate race, the BW poll shows incumbent Republican Senator Rob Portman holding onto a double-digit lead over Democratic challenger, former Ohio Governor Ted Strickland, 50% to 34% with 16% undecided. Portman wins big with Republicans (83%) and carries 54% of Independents to Strickland's 29%. Strickland's support among Democrats is at 69% with 18% still unsure about the race.
The split by party ID is as follows: 35.3% Democrats, 34.8% Republicans, 26.8% Independents, 3.1% Other.
View the full topline data report with select cross-tabs (pdf).
Polling methodology
This BW CRI study was conducted during the period of 11 p.m. Sunday, October 9, 2016 to Tuesday, October 11, 2016 among 1152 likely Ohio voters using online panel data with quotas in place for gender and age. Data are weighted by age and gender. Margin of error = +/- 3 percentage points for the general population. Results based on smaller samples of respondents—such as by party identification—have a larger margin of error. Distribution of participants by party identification is as follows: 35.3% Democrats, 34.8% Republicans, 26.8% Independents, 3.1% other. Sample is better educated than the state as a whole.
About BW's Community Research Institute (CRI)
Founded in 2005 at Baldwin Wallace University (BW) in Berea, Ohio, the CRI conducts regional, statewide, and national surveys for government agencies, nonprofits, foundations, community-based organizations, businesses, and the media. CRI also offers BW students opportunities for mentored experience in social science research. Visit www.bw.edu/centers/community-research-institute.