Marking a Milestone: Baldwin Wallace Celebrates 2016 Fall Commencement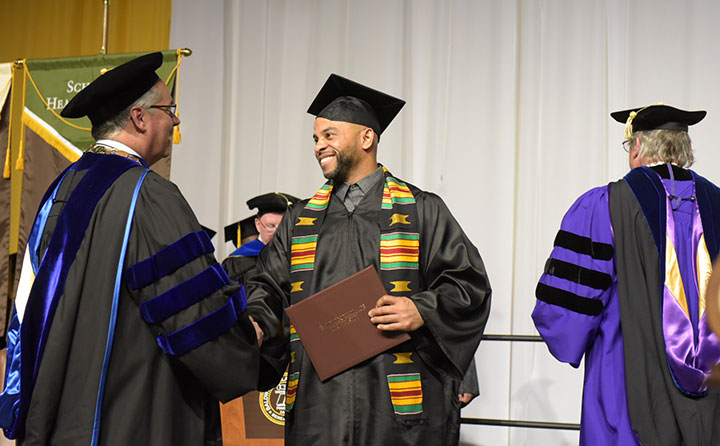 At a colorful ceremony, steeped in tradition, nearly 300 Baldwin Wallace University undergraduate and graduate students celebrated the 2016 BW Fall Commencement exercises on Saturday, Dec. 10, in Ursprung Gymnasium in the Lou Higgins Center. 
Commencement Address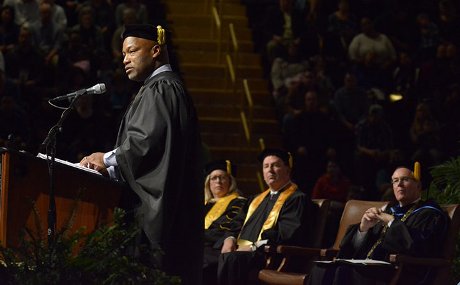 Graduates and their family and friends heard an inspiring commencement address by Northeast Ohio business and civic leader, Eddie Taylor Jr., who serves as president of Taylor Oswald, a minority-owned enterprise and partner of Oswald Companies. As he has started companies as an entrepreneur, Taylor said his path has been marked by mistakes, which a wise mentor called "the growing pains of wisdom," collaboration and heart. 
A native Clevelander with a passion for helping budding businesses succeed, Taylor told the graduates that "there is a mutual and natural interdependence in success." Beyond partnership, he also urged the graduates to make time for service to others, noting that "life is a team sport."
BW conferred an honorary Doctor of Humane Letters degree on Taylor, who was named to Crain's Cleveland 2014 Power 150 recognizing "forward-thinking leadership."
Honors, Tradition, Personal Recognition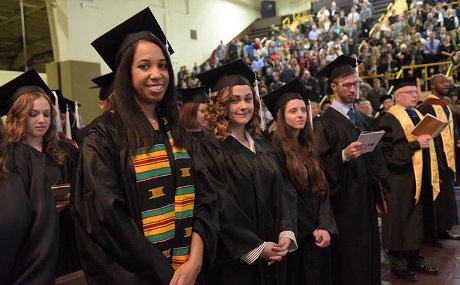 The ceremony which opened with a traditional academic processional, included special recognition for high-achieving undergraduates who graduated in three categories of honors: nine earned summa cum laude recognition with a cumulative grade point average of 3.90 or higher; 26 graduated magna cum laude with at least a 3.75, while another 17 earned cum laude honors with at least a 3.60. Students in the Dayton C. Miller Honor Society and the Honors Program were also applauded.
Senior Class officers were invited to add distinctively colored, brown and lavender ribbons to the "ring of ribbons," in a longstanding custom that ties BW grads together from generation to generation and includes the colors of every graduating class since 1915. 
The highlight for students, family and friends came as each student's name was called and each walked the stage to receive personal congratulations from BW President Robert C. Helmer, solidifying their places among thousands of BW graduates or "Yellow Jackets for Life" who have come before them since the school's founding in 1845.
A day-long Celebration
Before the "main event," commencement day began with the traditional Baccalaureate service in the Lindsay-Crossman Chapel with music and readings by students and faculty, and words on "Transcendence" by Dr. Susan Oldrieve, associate dean of the BW School of Humanities.
Baccalaureate was followed by the President's Reception in the Strosacker Hall union ballroom, where all graduating seniors and their families, faculty and staff were invited to mix and mingle, snap photos and enjoy heavy appetizers and desserts.
Boxcast Video Replay



WATCH the VIDEO >> of the 2016 Fall Commencement.