Powerful Proponents of Democracy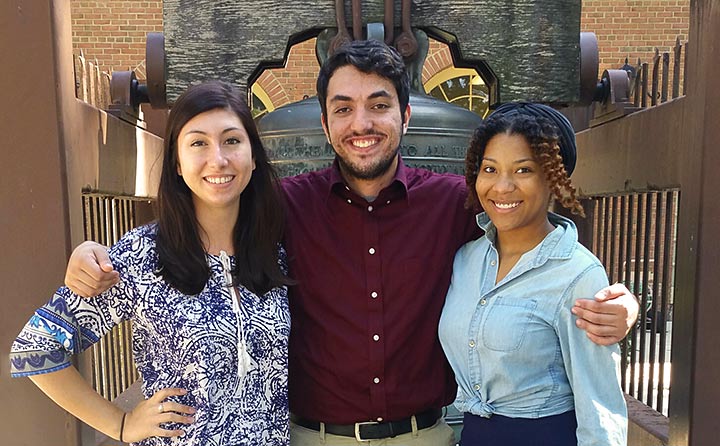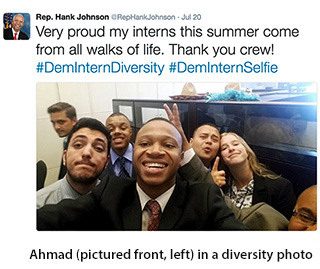 Ask BW senior Aziz Ahmad about the "diversity selfie" he helped organize this summer and he'll likely grin. After all, the media-snagged photo went viral and put his face amid the day's hot news.
It may have not been a typical D.C. experience for most students interning in the nation's capital, but it was one of the many things that made an impact on Ahmad (pictured front, left), a Muslim-American.
"My two internships in D.C. were transformative," described Ahmad. "The feeling of being in the center of democracy was amazing. I went from reading the news to creating it."
Also interning in D.C. this summer were BW senior Nikita Martin and junior Deanna Loggins, who also share a passion for democracy, advocacy and service.
From Government to Grass Roots Empowerment
"I went to D.C. as part of a fellowship with the Muslim Public Affairs Council," explained Ahmad, an international affairs and political science major from Strongsville. "Through the fellowship, I received an internship with the office of Congressman Henry 'Hank' Johnson." (pictured with Ahmad)
"I also interned with EmergeUSA, a political organization that promotes civic engagement among Muslims," he continued. "While there, I saw the importance of civic engagement at the grass-roots level."
"The opportunities I had in D.C. not only affirmed my career aspirations of public service and advocacy, but also showed me endless possibilities to accomplish my goals," he said. "Consequently, I am planning to run for office myself!"
A Voice for Tomorrow's Leaders
An aspiring D.C. dweller who has the Peace Corps first on her post-BW agenda, senior Nikita Martin interned with non-profit organization Vital Voices. The organization works to empower female leaders.
"This opportunity was so important because it allowed me to test-run a career path," said the international affairs and political science major from Berea. "I struggled for a while to narrow down my career goals because I am a big believer in being open to new opportunities and not limiting myself to only one option.
"I now know I want to live in D.C. some day and work in the public or the private sector. I want to have a tangible impact that makes me feel good about going to work," noted Martin.
A Keen Eye on Capitol Hill
In two short days, Chicago-native Deanna Loggins went from being a BW junior majoring in political science to being an on-the-go D.C. intern.
Working in Congresswoman Brenda Lawrence's office, Loggins spent much of her time shadowing and assisting Lawrence and her staff.
"Everything was intense and fast paced," explained Loggins. "I was able to see what it takes to be someone who works on Capitol Hill.
"Through my internship, I gained more interest in politics and how laws are put into place. I realized I would rather be more on the lines of helping people understand and enforcing the laws instead of helping to make them," she noted.