Making Guatemala Their Mission
For some it was a deep introspective experience focused on self-privilege and diminished human rights.
Others were impacted by eye-opening cultural similarities and differences that challenged their own beliefs and broadened their views of current global issues.
While another group felt a deep kinship with their peers and the amazing experience that united them.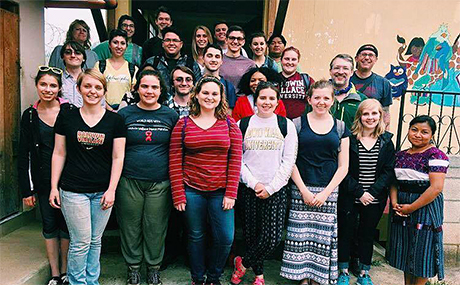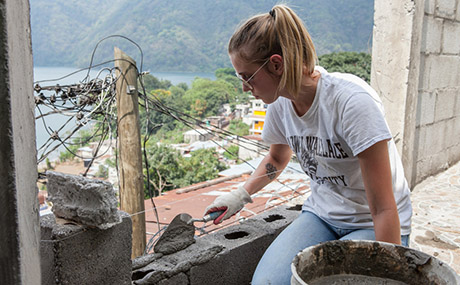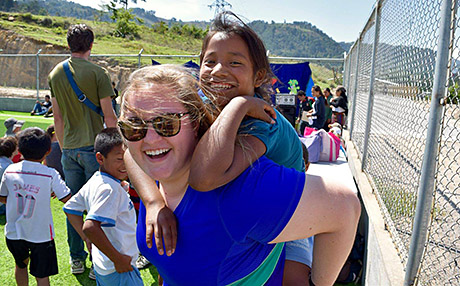 An inaugural trip to Guatemala in May brought intrinsic meaning and impactful service opportunities to 22 BW Honors Program students and faculty. The two-week trip was the culmination of a program that combined eight weeks of in-class study with overseas travel.
On a larger scale, it was among an ongoing series of BW service-learning initiatives with Mission Guatemala, a United Methodist Church-affiliated organization. 
Introspection And Immersion
According to Ken Schneck, a faculty participant on the trip, this was a "different type of service-learning trip."
He explained there was a small amount of manual labor they did at a local facility. But the emphasis of the trip was on gaining cultural understanding.
"We surfaced as much Guatemalan history, narratives and voices as we possibly could in an effort to understand what issues had a sense of urgency to the people living there," he noted.
"BW students had an amazing opportunity to experience Guatemalan culture–most specifically the Mayan indigenous community–from myriad angles," Schneck said.
"They learned about government interventions, environmental impact, nutritional strategies in schools and more," he noted. "Equally impactful to their learning were one-on-one interactions with local citizenry.
"Through all of this activity, the students were engaged in a constant self-reflection loop by which they examined both their own relationship to culture and the global effects of their day-to-day actions," he emphasized.
Eye-opening impact
"Working with Mission Guatemala was eye opening and worthwhile," said Olivia Murphy '18, an international affairs major from Johnstown, Pa. (pictured above in a school yard). "Experiencing firsthand the effects of economic, military and political strain on the community and how the people overcame (and are still affected by) hardships was the most impacting experience of all.
"Service learning trips offer students a light into new cultures, new populations and also new questions. They create an environment to challenge our own beliefs and broaden views of current issues in countries. This not only benefits us in the classroom, but also fosters more accepting and influential interaction with people who are very different than ourselves," she continued.
Also in agreement about the importance and relevance of international travel was Rebecca Montague '18, an arts management major from Berkeley Springs, W.Va.
"When immersed in a different culture and exposed to different ideas and perspectives, one is able to expand his or her thinking and understanding," she acknowledged. "We all saw our privilege while in Guatemala. But we also gave others the chance to speak stories that otherwise might not have been told.
"Experiences like these are once in a lifetime and will constantly impact your behaviors," she reflected.