BW Partners with The MetroHealth System to Propose Public Health Master's Degree
Baldwin Wallace University (BW) is seeking approval for a new Master of Public Health (MPH) degree created in close partnership with The MetroHealth System. The program is the first proposed graduate program in Ohio to be jointly developed by an academic institution and an essential health system with the aim of reducing health disparities.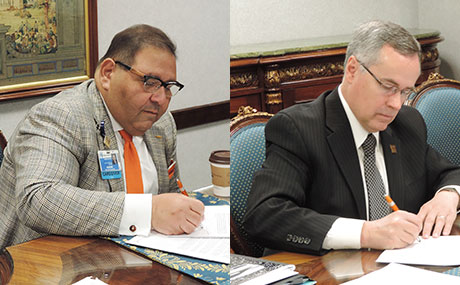 Akram Boutros, MD, President and CEO of The MetroHealth System (pictured left), and Robert C. Helmer, JD, PhD, President of Baldwin Wallace (right), signed a Memorandum of Understanding in support of the proposed program, which is awaiting action in the higher education regulatory approval process.
Leading-edge Education to Reduce Health Disparities
The goal of the degree program is to educate the public health care workforce on leading-edge approaches to disease prevention and health care management. The proposed program will teach the art of servant leadership – leadership focused on serving others. With that in mind, students will design capstone projects that tackle real issues and improve lives.
Both the Institutes of Medicine and U.S. Health and Human Services have called for integration of primary care and public health to reduce health disparities and to improve health outcomes for all Americans.
Partnership Powers Prevention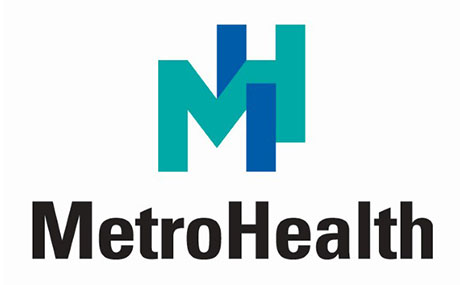 "Our focus at MetroHealth is on preventing illness -- in every person in every segment of our community," said Dr. Boutros. "This new master's degree in public health will equip graduates with the skills to improve health across culturally diverse communities, reduce health disparities and implement evidence-based prevention strategies. That means people of all races, income levels and zip codes can expect the same good health and the bright future that comes with it. And Cuyahoga County can, too."
"BW is pleased to partner with Dr. Boutros and the outstanding MetroHealth team as we work to address the public health challenges of the future," said President Helmer. "We take seriously our responsibility to serve the Greater Cleveland community and we believe this proposed program will have a profound impact as we educate graduates who are dedicated to improving the lives of real people in Northeast Ohio and beyond."
Meeting Workforce Needs for a Growing Field
According to the Bureau of Labor Statistics, the employment opportunity for public health professionals is expected to grow by more than 20 percent during the next decade and US & World News Report has identified public health as one of 11 robust majors that lead to jobs.
The MPH curriculum is designed to meet existing gaps between workforce skill sets and market demands. To develop the program, BW faculty representatives worked in close collaboration with expert practitioners and potential employers from MetroHealth, the Cuyahoga, Lorain and Summit County Boards of Health and other providers, to identify the expertise that future public health professionals will need.
Program Targets Fall 2016 Launch
The interdisciplinary, practice-focused program will draw on faculty expertise from the BW School of Health Sciences (Public Health, Nursing and Physician Assistant), as well as the Schools of Business and Education.
Contingent upon regulatory approval, the first cohort of students, all MetroHealth employees, could begin coursework in the 14-week Fall 2016 Semester. Classes will be taught by BW professors and MetroHealth providers on Saturdays at MetroHealth Medical Center, providing a hands-on approach to population health issues, management and solutions.
The longer range program goals call for BW to build on the initial cohort with a mix of both MetroHealth enrollees and traditional post-baccalaureate students.