BW Honors Exceptional Educators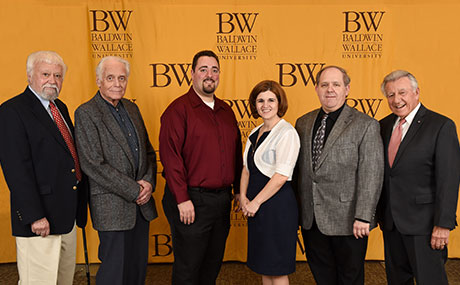 In recognition of their significant contributions to the field of education, six Baldwin Wallace University alumni were honored with the 2016 Outstanding Educator Awards, sponsored by the BW Alumni Association and the School of Education. The 2016 Celebration of Outstanding Educators took place on Sunday, April 17.
The 2016 honorees are (pictured left to right) Eugene Borza '57, professor emeritus of ancient history at Penn State; William Gilsdorf '59, professor of communication studies at a number of institutions; Carol Cicolani Huffman '87 MAEd, longtime Parma City Schools music teacher and current faculty member at Indiana University (her son Nathan accepted the award on her behalf); Erin Yelton Broadhurst '00, orchestra teacher in the the Hilliard City School district (Columbus);  Brian Tumino '92, '02 MAEd, English and social studies teacher and current assistant principal at Strongsville High School; and Ted Theodore '51, Berea City Schools art teacher and track coach. 
Read more about the many accomplishments of each of these Outstanding Educators on the BW alumni website.
Thomas Awards Honor Inspiring High School Teachers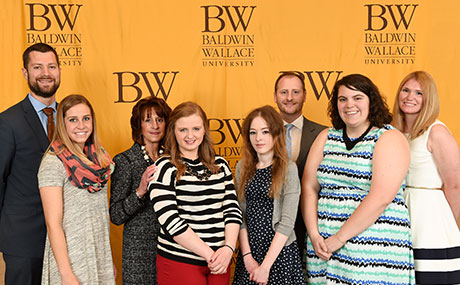 In addition to the Outstanding Educators, six high school teachers who have engaged, inspired and encouraged BW students while preparing them for college were honored with the James Thomas High School Teacher Award.The award is funded by BW alumnus and trustee, James A. Thomas '59, chairman and CEO of Thomas Properties Group LLC. Graduating seniors nominate the teachers to receive a $1,000 cash award.
The 2016 Thomas Award winners and their nominators are (pictured left to right, students in front): Mark Treen of Stow-Munroe Falls (Ohio) High School, nominated by Lauren Schneider; Renee Kluding of EHOVE Career Center in Milan, Ohio, nominated by Ashly Dickman; Kris Gaijer of Cuyahoga Falls (Ohio) High School, nominated by Heather Knotts; and Melinda Kilgrove Harris of Ravenna (Ohio) High School, nominated by Ashley King.
Herrick Scholarships and Honor Society Induction
The Celebration of Outstanding Educators also recognized winners of the Jill Herrick Graduate Education Scholarship, established to support exceptional graduate students in the School of Education. The 2016 winners are Anne Hollenback and Sister Josephone Rasoamampionona.
Finally, 18 students were inducted into Kappa Delta Pi, the international honor society for undergraduate education students, established to foster excellence in education and promote fellowship among those dedicated to teaching.