Entrepreneurship MBA Alumna Takes Over Invitation Design Firm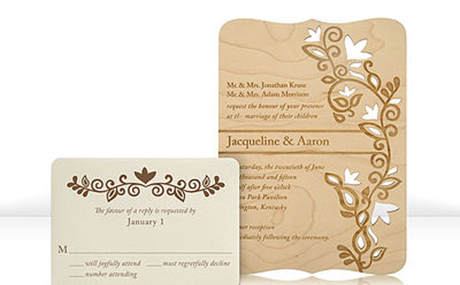 After 11 years with Invite Design, Baldwin Wallace Entrepreneurship MBA alumna Nicole Wilson has taken sole ownership of the Cleveland-based company she helped to build, buying out her partner Genevieve Kenney. Before Invite Design, Wilson worked for several years with American Greetings, before co-creating the unique company. 
To distinguish itself from other invitation design companies, Invite Design makes use of technology and abnormal materials, such as wood and metal, with an emphasis on an environmentally-friendly standpoint. 
Wilson said in a press release that, "The use of new and emerging technologies to create product from sustainable materials has been our greatest strength." Wilson plans to continue evolving the company including its recent addition of some new metal invitation designs. 
To discuss their progress as a company, Wilson said, "We overcame many challenges, as is often the case when using new technologies to create a product. We built our reputation based on great customer service and expertise in the field. I am ready to take what we have built and move it forward to share our invitations with new markets."
Wilson's work at Invite Design has garnered local media attention, earning her company a spot as one of the Cleveland Professional 20/30 Club's "Top 25 Under 35 Movers and Shakers (2011)."
In addition to Invite Design, Wilson is part owner of SNIK Studio, a graphic design firm she owns with her husband, Scott Wilson. SNIK Studio offers graphic design and creative consulting services to clients ranging from small businesses to large corporations.