Swish...We're Swarmin'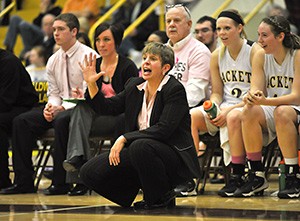 Big game-day rivalry is ready to rock Ursprung Gymnasium as BW women's basketball comes alive amid cheers of an Ohio Athletic Conference (OAC) Championship push and ongoing celebration of coach Cheri Harrer's 500 career-win record. Join us Feb. 18, 7:30 pm, as we Swarm the Gym.
"With a goal of 2015 attendees and a great night of fun, prizes, giveaways and activities lined up, we're ready to make some noise," said Marc West, director of Student Life & Involvement.
"Whether you're a boisterous basketball fan or an individual looking for a great place to go to beat the mid-week doldrums, we're inviting the BW community to join us as our Yellow Jackets crank up the heat on OAC rival, Ohio Northern," he continued.
With BW, Ohio Northern and John Carroll universities battling for the top spot in the OAC as the push for playoff contention moves into high gear, the game is sure to be intense, competitive and momentous.
Adding to the excitement is the ongoing accolades of Head Women's Basketball Coach Cheri Harrer's 500th career-game win on Jan. 17, when BW defeated Ohio Northern, 69-64.
The win made her just the second women's basketball coach in the 113-year history of the Ohio Athletic Conference to achieve the 500-win feat.
Ready to Swarm? Here's How

:
Prospective students and their families–join us in the BWWelcome Center at 5 pm for an admission presentation, campus tour and dinner prior to the game. Please register for COMPLIMENTARY dinner and game tickets.
BW students get in FREE with a BW ID. Free popcorn with a Swarm pass.
Faculty, staff and their families get in FREE with a Family Swarm Pass. Free popcorn with a Swarm pass.
The Swarm pass is available starting February 12 in Lou Higgins Center and Strosacker Union. It is also available at the door the day of the game. Please bring your BW ID.