A Not So Typical Summer Vacation Destination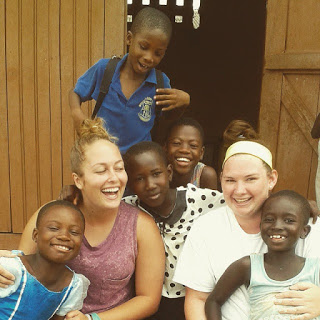 The typical college student's summer vacation destination might consist of a beach, big city or other tourist destination. But senior public health major Mary McHale and sophomore arts managementmajor Sarah Gattis are far from typical. They chose to spend their first month of summer vacation doing service work in Cape Coast, Ghana in Africa.
Their focus was on assisting teachers with their daily lessons in various schools around the Cape Coast area. Since it was the rainy season in Ghana, Gattis explained that "we would teach about personal hygiene and sanitation to prevent the children from getting sick and spreading diseases."
The women lived with a host family which helped to fully immerse them in the Ghanian culture. McHale, who has traveled to Ghana two times previously, said her host mother for this trip was a great cook.
Of course there were challenges to be faced along the way from illness to infrastructure. Hot water was only available by boiling it, and the power frequently went out. During the rainy season, flooding presented another challenge because on rainy days most of the city and surrounding areas would be shut down.
In spite of the challenges, both McHale and Gattis feel blessed to have had such an incredible experience. McHale explained her love for the country by saying that "the environment is very different from the U.S. and everyone is always looking out for me and making sure that I am safe. I think that the people are what I like most and their kindness is what I'll always remember." Both women vow to return to Cape Coast very soon.