BW Students and Faculty Broadcasters Win IBS Broadcasting Awards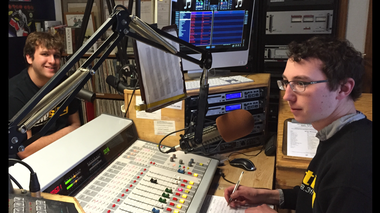 Five BW student broadcasters and two faculty members involved in the college's radio station, WBWC 88.3FM "The Sting," were Silver Microphone award winners in the 2015 Intercollegiate Broadcasting System (IBS) Awards in  Excellence in Radio/TV/Webcasting.
WBWC broadcasts to the Cleveland and Lorain County area and was the first student-run radio station in the United States. Signed in 1986, this nonprofit radio station is educational and allows for first-hand experience in communication, business writing, public relations, and music.
The BW student IBS Silver Microphone winners for Best Promo Series include: station General Manager Liz Miller '15, a Broadcasting and Mass Communications major from Libson, Ohio; Bruce Stacey '16, the Program Director and Broadcasting and Mass Communications major also from Libson, and Michael Widman '15, music director and Marketing and Public Relations major from Bloomville, Ohio. Faculty members who were finalists for this category are production consultant, Todd Richards and Joe Tarantowski, WBWC Director of Broadcasting.
Sam Trap '17, a Broadcasting and Mass Communications major from Medina, Ohio, took home a silver award for Best Underwriting Campaign. Bruce Stacey and Alex Nixon '18, a Deejay and Film Major from Medina won Silver in the Best Liner category.
The award winners were recognized March 6-8 during the 74th Annual IBS Conference in New York City, where students also presented.