Ohio Magazine Showcases BW STEM Scholar Success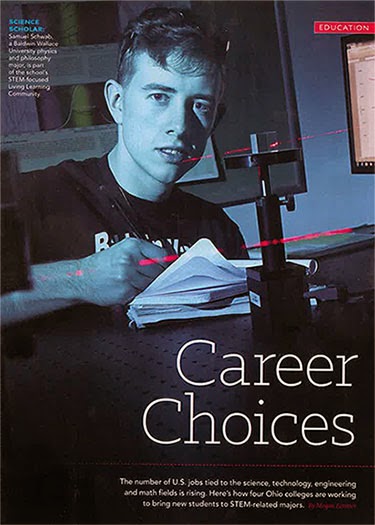 The BW STEM Scholars program and physics and philosophy double major Sam Schwab '15 are featured in the current issue of Ohio Magazine. The "Career Choices" article notes the rise in U.S. jobs related to STEM, short for science, technology, engineering and math, and details how four Ohio colleges, including BW, are working to support student success in challenging STEM-related majors.
Schwab, who lives in BW's STEM Living Learning Community, had praise for opportunities that occur outside the classroom. "I was lucky enough to connect with some students and created a hands-on calculus course with a professor [ Dr. Edwin Meyer] last semester."
The development of personal and professional career skills is another hallmark of the BW program. "We like the students to see the STEM fields as a business or entrepreneur opportunity," Dr. Jacqueline Morris, director of neuroscience explained in the piece. "We want them to make the connection ... to make their education into a career."
BW's director of STEM student initiatives, Stephanie Forstner, told the magazine that the BW approach, "offers holistic support — financially, academically and socially. Each student gets a success coach...throughout their college experience, and there is a real sense of community within the STEM program."
Statistics show that extra support pays off. BW STEM majors who are a part of the scholars program are nearly twice as likely to graduate with a STEM degree in four years, versus STEM majors who do not participate.