BW Sport Management Majors Gain Real World Experience at Super Bowl XLIX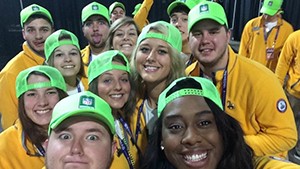 A group of Baldwin Wallace University students can add working one of the biggest sporting events on the planet to their resumes.
This is the third straight year Sport Management Professor Charles Campisi was able to offer students, mostly sport management majors, the opportunity to work the Super Bowl. More than 30 students, alumni and faculty spent a week in sunny Arizona, working NFL On-Location at Super Bowl XLIX and providing support for events at The NFL Experience, held in the Phoenix Convention Center leading up to the big game.
The group wrapped up their game day duties in time to enjoy watching the game, half-time show and an exciting last minute win by the New England Patriots.
NFL Connections Open the Door to Super Experience
Campisi, who earned his own Super Bowl ring working in the Tampa Bay Buccaneers' front office prior to joining the BW faculty, has been able to leverage contacts from his time with several teams in the NFL to land the credentialed role for his students.
"It's fun and valuable field work," said Professor Campisi. "Our students got the chance to experience Super Bowl week and Super Bowl game day from behind the scenes, and to gain an understanding of what it takes to plan, organize, and execute a true sports mega-event."
In the Eye of the Media
The distinctive undergraduate experience also was featured by the Cleveland news media, with Channels 3 and 19 interviewing the students before they set out on the super-sized learning experience. When Campisi and two students joined anchor Jim Donovan on the WKYC-TV set, the longtime Cleveland sports/newsman told them, "I want to sign up for your class!"