With "One Piano to Go," BW Conservatory Poised to Gain Elite All-Steinway Status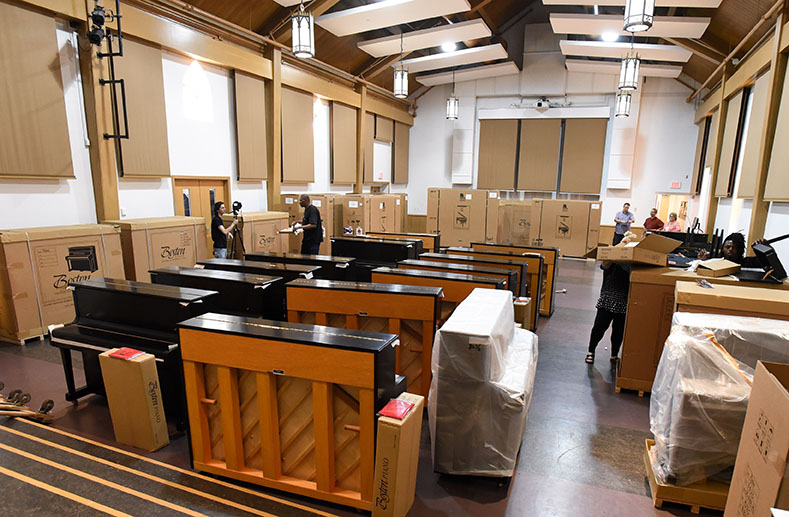 Fueled by the extraordinary generosity of donors with a love of music and education, a single piano is all that stands between the Baldwin Wallace University Conservatory of Music and elite All-Steinway School status.
Two large deliveries of donor-funded pianos over the summer moved BW just one instrument away from the goal of putting a Steinway or Boston in every performance space, studio and practice room in the Conservatory—some 88 new pianos in all.
One Piano to Go
A "One to Go" campaign is now underway with the aim of raising the final $5,000 needed to retire the last old instrument, from the Conservatory's practice room #109, by early October. BW is inviting supporters to join the final push via an easy, online "One Piano To Go" crowd-funding tool at http://igg.me/at/bwsteinway.
The addition of the ultimate piano will place BW onto a short list of conservatories worldwide that can boast the prestigious All-Steinway School classification.
Pianos Benefit All Music Students
"Pianos are the primary teaching instruments for all music majors, whether they are singers or instrumentalists," said Conservatory Director Susan D. Van Vorst. "We know that our students will appreciate and benefit from BW's commitment to this level of excellence in instruments and musical training." 
"We are thrilled and grateful for the generous gifts that have brought us within striking distance of our All Steinway goal in such a short period of time," Van Vorst continued. "As we welcome the largest and most outstanding entering class in the Conservatory's 116-year history this fall, we are excited for our students and faculty to begin the semester with these superior instruments." 
87 Instruments in 18 months
BW kicked off the All-Steinway campaign in January 2014 with a "roll-in" celebration of the first 12 pianos, including nine Steinway grands, funded in part with a major gift from the estate of Arline Kadel '36, a former high school music teacher who sang in the first Bach Festival in 1932 and remained active in the life of the university for 80 years until her death in 2013. 
Since that time, many additional, generous BW alumni and friends have stepped up with gifts large and small to help purchase the pianos. Conservatory faculty members are already scheduled to travel to New York City at the end of September to hand-select the final four Steinway B Grands funded by the campaign.  
What's in the Name? Steinway = Excellence
One of the professors slated to make that trip, Robert Mayerovitch, head of BW's keyboard department, said BW students and faculty artists are already delighted with the change.
"The Steinway reputation for excellence is recognized throughout the world," Mayerovitch said. "Our students who strive to be professionals are able to learn and perform on the same quality of instrument that is standard in the majority of the concert halls around the world." 
Aiming to Retire Last Piano by October
"We are so close to our goal that our entire community is energized and ready to retire our last standing 55-year-old Everett upright in practice room BMAC 109," said Van Vorst.  "We invite everyone in the BW community to tell your friends, your family, and join in the final push with a goal of announcing and celebrating All-Steinway School status early this fall."