Legendary Olympian Harrison Dillard '49 Shines in Gold, and now Bronze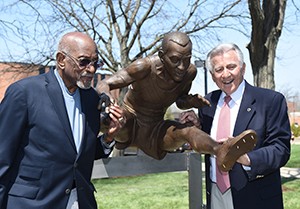 A life-sized bronze statue now stands as a lasting tribute to the Baldwin Wallace University graduate and four-time Olympic gold medalist.
The statue was unveiled in a dedication ceremony at the entrance to BW's George Finnie Stadium on Bagley Rd. in Berea on Saturday, April 18. The 91-year-old Dillard helped to pull the drape to reveal the bronze likeness that captures the legendary, world record holder leaping over a hurdle. It was created by renowned Cleveland sculptor David Deming, best known for the statue of Cleveland Indian Jim Thome that sits in front of Progressive Field.
The large crowd of well-wishers at the unveiling included Dillard's daughter, Terri Dillard, his 17-year-old granddaughter, Izmailia Sougoufara, BW and regional dignitaries, plus admiring athletes taking a break from the annual Paul "Sparky" Adams Invitational Track Meet in the stadium.
Dillard told the young competitors in attendance that they too could achieve their own goals, "if you have a dream and you're willing to pay the price and make sacrifices and work hard." 
Olympic Story for the Ages; Champion in the Way he Lives
The Olympic story of the spindly but fierce competitor known as "Bones" is one for the ages, with a "trip" and a "lean" making the difference in medal outcomes. The Cleveland native is the only man ever to win Olympic gold medals in both the sprints and high hurdles.
But Dillard's longtime friend and BW teammate Ted Theodore '51 said the move to honor Dillard's legacy was inspired by much more than international athletic acclaim, noting Dillard's humble and generous persona and lifelong dedication to youth athletics and education.
"In my eyes, Harrison Dillard was a world champion by the way he lived," Theodore said. "Let's hope this statue inspires hundreds of young men and women who dare to dream of greatness as Bones did."
For BW, "One of Our Own, Who Happens to be a Legend"
At BW, Dillard won four NCAA titles while earning a business degree. He worked as a business manager for the Cleveland Metropolitan School District until his retirement.
BW President Robert C. Helmer told the crowd that Dillard is a shining example for the BW community. "We come together to celebrate one of our own, who happens to be a legend."
Presenting a proclamation, Cuyahoga County Executive Armond Budish said Dillard "is just like our city: tough, hard working and humble."
In addition to the unveiling and tributes at the dedication, Dillard will also receive proclamations from the City of Cleveland, City of Berea and the Ohio House Representatives.
After the ceremony and posing for photos, Dillard appeared to be faint and was taken to Southwest General Hospital to be checked out. The Olympian was alert and joking with family and medical staff in the ER, and after some tests, he was sent home to rest after a big day of recognition.