BW Northeast Ohio Survey Shows Vulnerability of Marijuana Issue 3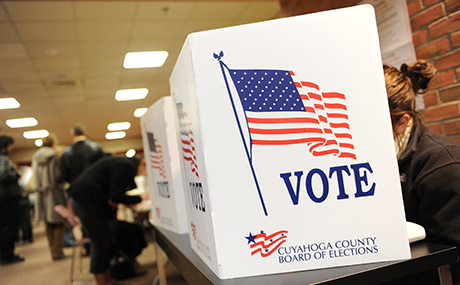 While Northeast Ohioans clearly support medical marijuana (about 83%), a new public opinion poll conducted by Baldwin Wallace University's Community Research Institute (CRI) shows a much smaller majority of residents in the seven-county Greater Cleveland area favor legalization for recreational use (about 55%).  
"We were surprised to find that the percentages of people who favor both types of legalization in Northeast Ohio – a region that tends to be more liberal – are right in line with statewide polling," said Lauren Copeland, Ph.D., associate director of the BW CRI and political science professor.
Complexity of Issue 3 Muddies Support
Support softens when survey respondents were asked specifically about the likelihood that they will vote in favor of Issue 3, which would legalize both medical and recreational marijuana use in Ohio. While 43% report that they are "likely or very likely" to support the measure, about 38% state that it is "unlikely or very unlikely" that they would support the measure. An additional 20% of respondents were undecided.
"That lukewarm level of support may reflect the complexity of the ballot issue," said Copeland. "While there is clear support for the legalization of marijuana for medical use, support for recreational use is more tepid. In addition, many voters have concerns about the potential for Issue 3 to create a monopoly for growers. " 
Nearly Half Have Tried It; Prior Use Increases Support
Supporters of legalization are more likely to have tried marijuana in the past. About 48% of respondents have tried marijuana, and this group is significantly more likely to support legalization of marijuana for medical use (about 90%), as well as to support legalization for recreational use (about 77%).
"Social science researchers have noted that the number of people who report that they have smoked marijuana has been rising over the past decade," Copeland said. "The thinking is that the increase is more a reflection of a cultural shift in attitudes, rather than use. As using marijuana becomes less of a taboo, people are more likely to admit to trying it."
Presidential Race: Trump Scores High Unfavorables; High Fives for Ohio's Favorite Son
The poll also looked at favorability/unfavorability ratings for the major party presidential candidates in the race for the 2016 Republican and Democratic nomination, respectively. Not surprisingly, Ohio's own Governor, John Kasich, earned the highest favorability rating in the Republican field at about 49%.
"Governor Kasich has lost some ground in recent national polling, but he continues to show strength in swing state Ohio," said Tom Sutton, Ph.D., director of the BW CRI and political science professor.  "Even if his candidacy for the top of the ticket flounders, he is likely to be on the short list of Republican vice presidential prospects."
Republican Donald Trump may have a plurality of votes in nationwide polls, but he has the highest unfavorable rating in the Northeast Ohio survey at 63%, with just 30% of the Greater Cleveland area respondents viewing the wealthy businessman in a favorable light. This result is consistent across party lines.
Along with Kasich, Republicans Ben Carson, Jeb Bush, Marco Rubio and Carly Fiorina all top Trump in favorability rating, but not by much. Many in the GOP candidate pool remain a mystery to the public, with two thirds or more of respondents saying they "haven't heard enough" about the respective candidates to make a favorable/unfavorable judgment. 
Polarized Ratings for Hillary Clinton
Overall, Democratic front-runner Hillary Clinton produces a polarized result with an even split of favorable and unfavorable ratings from Northeast Ohioans. However, perceptions vary greatly by party identification. Among Republicans in the BW CRI poll, 86% view Clinton unfavorably versus just 13% favorable. The results are reversed for Democrats, with 75% favorable, 22% unfavorable. Independents are more evenly divided.
"Hillary Clinton jokingly included 'the Republicans' in her response to a debate question about what enemies she has made in her political life, and her favorable/unfavorable ratings by Republicans in our region bear that out," said Sutton.
Clinton's closest Democratic rival, Vermont Senator Bernie Sanders, also has high favorability ratings at about 43%, but close to a third of respondents "haven't heard enough" to make any judgment.
Ironically, Vice President Joe Biden – who announced his decision to not run last week – enjoyed the highest favorable rating among Democratic candidates (54%).
Lack of Trust in Politicians Fuels Support for Outsiders
The survey also offers glimpse into the frustration and cynicism that has fueled public support for outsider candidates such as Trump, Carson, and Fiorina.
A whopping 82% of survey respondents said they agreed more closely with the statement, "Most politicians are in politics only for what they can get out of it personally," compared to just 18% who reported, "Most of the time we can trust people in government to do what is right."
About the BW CRI Northeast Ohio Survey
From October 7-19, the CRI surveyed 500 residents of Cuyahoga, Lorain, Medina, Summit, Portage, Geauga, and Lake Counties using online panel data with quotas in place for gender and age (margin of error +/- 4 percentage points). The interviews were conducted before and after the first Democratic primary debate, before the recent launch of an anti-Issue 3 television ad campaign, and before Hillary Clinton's appearance before a Congressional Committee investigating Benghazi. View survey questions and complete data sets (pdf).
About the BW Community Research Institute (CRI)
Founded in 2005 at Baldwin Wallace University (BW) in Berea, Ohio, the CRI conducts regional, statewide, and national surveys for government agencies, nonprofits, foundations, community-based organizations, businesses, and the media. CRI also offers BW students opportunities for mentored experience in social science research. Visit www.bw.edu/centers/community-research-institute.
Media Coverage of the BW CRI Survey