Business Leader Gilbert to Speak at First-Ever Fall Commencement
Resounding applause, full academic regalia and the venerable march of "Pomp and Circumstance" will fill Ursprung Gymnasium Saturday, Dec. 12, 2 pm, as 162 undergraduate and graduate students participate in Baldwin Wallace University's first-ever Fall Commencement.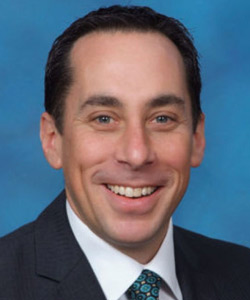 "Commencement is the pinnacle of our students' academic preparation," noted BW President Robert Helmer. "We will now have two Commencements, one in December and one in May, that combine the undergraduate and graduate conferring of degrees.
"Adding a second Commencement enables us to better serve our students," he continued. "We have students in undergraduate, graduate and post baccalaureate programs who meet their degree requirements upon completion of the fall semester. For these individuals, especially those who will be leaving the area immediately upon graduation, a Fall Commencement provides them with a culminating, celebratory event."
The Dec. 12 speaker is David E. Gilbert, president and CEO of the Greater Cleveland Sports Commission (GCSC), Destination Cleveland and the 2016 Republican National Convention (RNC) Host Committee.
In his leadership roles with the GCSC and Destination Cleveland, his visionary work has been the driving force advancing the prestige, community vitality and economic growth of Cleveland as a vibrant visitor destination.
Through the work of the GCSC, Cleveland has been host to top events, including the NCAA Women's Final Four, National Senior Games, NBC Gravity Games, U.S. Figure Skating Championships, International Children's Games and National Gymnastics Championships, among others.
Destination Cleveland (formerly Positively Cleveland) serves as the convention and visitors bureau for Greater Cleveland. It has contributed to the rise of Cleveland as a popular leisure and business travel destination.
For the 2016 RNC, Gilbert and the committee are overseeing all fundraising operations, communications and local programming for the Cleveland-hosted event.
Gilbert, who resides in Solon with his family, has been on the board of several top organizations, among them the International Children's Games, Rock and Roll Hall of Fame and Museum, and Greater Cleveland Film Commission. He has received numerous accolades and awards during his 25-year career history. He has a bachelor's degree in marketing from The Ohio State University and an MBA from Cleveland State University.