Alumnus Pledges Largest Gift in BW History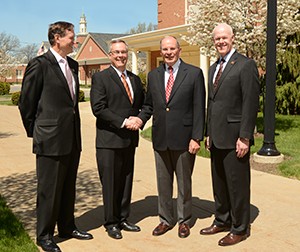 Stephen Boesel '68 pledges $15 million to elevate the BW School of Business and support key campus initiatives.
A $15 million dollar gift—the largest in Baldwin Wallace University history—from distinguished BW alumnus and trustee, Stephen Boesel '68, will advance the study of business at BW through student scholarships, faculty support, experiential learning opportunities and an esteemed speakers series. A portion of the gift also will fund key strategic initiatives on the Berea campus.
In an announcement to the University's Board of Trustees on Saturday, May 2, BW President Robert C. Helmer said, "BW is grateful for Steve's generosity and philanthropic leadership. This is a transformative gift that takes BW's respected School of Business to new level of excellence, providing unparalleled experiences, support and access for our students."
Support for Experiential Learning and World-Class Faculty
A permanent endowment will support a variety of activities within the BW School of Business including:
renewable, annual Boesel Scholarships that will expand undergraduate and graduate access to an exceptional business education,
enhanced support for business faculty including professional development and research activities,
new experiential learning opportunities, such as BW's new Digital Marketing Clinic, and
a new annual business speakers series to expose BW and Northeast Ohio to preeminent, national thought leaders, like the recent appearance by former FDIC Chairman Sheila Bair.
 
"Steve's generous gift strengthens our ability to provide our students with world-class professors who are at the forefront of leading trends in business education, and provides financial and experiential support for exceptional business students as they prepare to enter a highly competitive world economy," said John Lanigan, dean of BW's School of Business.
Career Marked by Ethical and Extraordinary Results
One of the most respected and successful mutual fund managers in the country, Boesel's 33-year career with T. Rowe Price stands in marked contrast to the Wall Street stereotype that emerged following the most recent financial crisis. The former president and investment committee chair for the T. Rowe Price Associates Growth and Income Fund and Capital Appreciation Fund was consistently praised for a focused, highly ethical and steady management style that resulted in extraordinary fund performance.
BW Community Benefits from Generous Philanthropy and Leadership
Since 1997, Boesel has lent his wise counsel to BW as an active member of the BW Board of Trustees, and in 2012, he was inducted into the Ohio Foundation of Independent Colleges (OFIC) Hall of Excellence.
This is not the first time Boesel has stepped up to support the mission of his alma mater. He and his late wife of 42 years, Jacquelyn, also provided leadership philanthropic support for the 2011 renovation and expansion of BW's Conservatory of Music. The Boesel Musical Arts Center, named in their honor, more than doubled the size of the Conservatory.
A resident of Sarasota, Fla., Boesel's generosity has extended to a variety of arts, education and church organizations in Sarasota and his longtime home of Baltimore, Maryland, as well.
"Steve embodies exactly what we want our graduates to be, a person of great integrity and intellect who leverages his own success for the greater good," Helmer said. "The legacy that he is building will have lasting impact on many generations of students to come."
Posted May 2015