Outspoken Former FDIC Chairman to Appear at Baldwin Wallace School of Business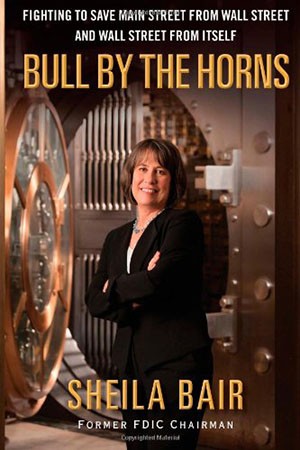 Sheila Bair made a name "fighting to save Main Street from Wall Street and Wall Street from itself" in the aftermath of the 2008 global financial crisis.
Baldwin Wallace University's School of Business will host outspoken former Federal Deposit Insurance Corporation (FDIC) Chairman, Sheila Bair, for a free lecture on Tuesday, April 21 at 7 p.m. Bair, who Time magazine dubbed "the little guy's protector in chief," served as the 19th FDIC Chair from June 2006 through July 2011 during one of the most tumultuous periods in the history of the nation's banking system.
Leadership Lessons From the Financial Crisis
In her talk, "Leadership Lessons From the Financial Crisis," Chairman Bair will discuss the challenges she faced as a key leader in the government's unprecedented response to the global financial crisis. During her time at the helm of the FDIC, Bair worked to bolster public confidence, stabilize the financial sector, and became a vocal advocate for an end to the "too-big-to-fail" doctrine and taxpayer bailouts.
BW Finance professor Kevin Jacques, who worked for Bair during his time as a U.S. Treasury Department economist, calls Bair "a fierce advocate for the public interest."
New York Times Bestselling Author has new Book
Today, Bair continues her work on financial policy issues as a Senior Advisor to the Pew Charitable Trusts. Twice named by Forbes magazine as the second most powerful woman in the world, Bair's numerous honors have included the John F. Kennedy Profiles in Courage Award.
A regular columnist for Fortune magazine, Bair is the author of the New York Times Best Seller, "Bull by the Horns: Fighting to Save Main Street from Wall Street, and Wall Street from Itself." She also has penned a new book explaining the financial crisis to young adults. The provocatively titled, "The Bullies of Wall St.: This is How Greedy Adults Messed up our Economy," is currently available for pre-order and due in bookstores on April 14, a week before her appearance at BW.
Free Talk, Limited Seating, Requires Tickets
Bair's appearance at BW's Kleist Center for Art & Drama is made possible through a generous donation from BW Trustee Stephen Boesel '68.
The talk is free and open to the public, but seating is limited and tickets are required. Tickets are available online at bw.edu/tickets. For more information, call 440-826-3458.