WISE Scholarship Recipients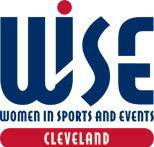 Women in Sports and Events Cleveland (WISE Cleveland) annually honors amazing women who contribute to the field of sport management/events in the greater Cleveland area. Two BW students, Mackenzie Nelsen '17, a sport management and business administration major and Rebecca Brown '16, a sport management major, were honored as recipients of WISE Scholarships at the fourth annual WISE Women of the Year Awards and Scholarships event.
Every year, four college-aged women who are pursing careers in sport management/events field are chosen WISE scholarships. The award recipient have a 
demonstrated track record of participation in event planning, sport management volunteerism or participation in the business of sports or athletics such as coaching or team management.

Brown and Nelson  received their WISE recognition at a spring luncheon at the House of Blues in Cleveland.

Read the full recap, courtesy of WISE Cleveland, here.