Mission Accomplished: BW Conservatory of Music Designated All-Steinway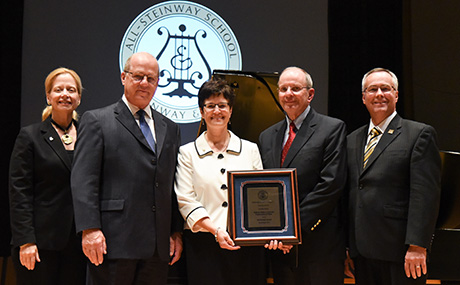 At a celebratory convocation on Thursday, Oct. 8, Baldwin Wallace University's Conservatory of Music and Steinway & Sons made it official: BW has joined the prestigious ranks of All-Steinway Schools.  
"Thank you for choosing Steinway pianos to accompany you on your commitment to and achievement of excellence," said Sally Coveleski, National Director of Institutional Sales for Steinway & Sons as she presented a plaque carrying the official designation.
Measure by Measure, Lessons Along the Way
Thursday's event in Gamble Auditorium was brimming with gratitude and applause for the 140-plus donors who helped BW reach the elite milestone in less than two years, with the final of 88 new instruments rolled onto the Gamble Auditorium stage dressed up in an enormous, "Conservatory fuchsia" bow.
In recounting, "measure by measure," some of the "lessons along the way," Conservatory Dean Susan Van Vorst said, "We learned that BW's commitment to excellence is indeed real and that the BW community is an overwhelmingly generous and loyal community."
Acknowledging a Generous Legacy
Two of those generous donors were singled out for special recognition. First: acknowledgement of the gift that started the ball rolling in January 2014. The frigid, winter "roll-in" of the first 12 pianos was made possible by a portion of a major estate gift from Arline Kadel '36, a former high school music teacher who sang in the first Bach Festival in 1932 and remained active in the life of the university for 80 years until her death in 2013. 
Second: a major gift from the estate of Jacquelyn Jean Fynes Boesel, an accomplished pianist and longtime supporter of BW Conservatory students, along with her husband Stephen Boesel '68, helped to bring the campaign to the brink of completion over the summer. Stephen Boesel, "acting as a voice" for his late wife at the event said, "this goal of having a Steinway campus really resonated with her, and when things resonated with Jackie, they happened."
Peter Siewertsz van Reesema '16, a music theory major and holder of one of four endowed Jacquelyn Jean Fynes piano scholarships, thanked Boesel and dedicated his performance of Gershwin's  "Embraceable You" to the memory of his wife. It was one of three beautiful student performances on a Steinway grand.
Student Sendoff; Steinway Artistry and Excellence
In addition to the poignant moments, the celebration included video presentations on BW's Steinway journey (you can view one below) and a slide show of the lighthearted send-off students gave to the last practice room piano at the end of September, painting the aging instrument hot pink and naming it "Bach to the Fuchsia."
Ultimately, the event (as the campaign) came back to the desire for excellence with pianos serving as the primary teaching instrument for all music majors and Steinway quality serving as the gold standard in the vast majority of concert halls around the world.
Keyboard program coordinator, Dr. Robert Mayerovitch, who recently traveled to New York to help select the final grand performance pianos said, "The new pianos have a positive difference in the way our students practice, listen, perform and imagine." 
Van Vorst added, "With the right tools in place our faculty can raise expectations and indeed students will rise and exceed those expectations."