New BW Partnership with UH Addresses Nursing Shortage with OBN Grant Support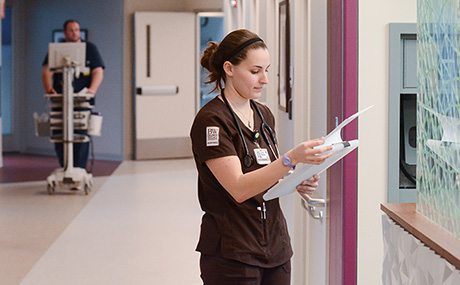 With a newly approved, competitive grant from the Ohio Board of Nursing (OBN), Baldwin Wallace University (BW) and University Hospitals Case Medical Center (UH) are establishing a partnership that will increase BW's capacity to help address a predicted nursing shortage. According to the Northeast Ohio Nursing Forecaster, published by the Center for Health Affairs, the 17-county region around Cleveland faces a shortfall of nearly 6,000 registered nurses by 2020.
Innovation in Nursing Education
The innovative new teaching model, with classes beginning in January 2016, will add a second group of BW nursing students that will form a hybrid "Designated Education Unit (DEU)" at UH. Bachelor's degree holders who are accepted into the intensive 12-month program will take classes and labs on BW's Berea campus and perform all clinical placements exclusively at UH and its affiliated hospitals and agencies. 
A distinctive feature of the program will provide students a "clinical immersion," working with a UH staff nurse to manage the total care delivered by the nursing team to a group of patients. In the final term, students will practice one-to-one with nurse supervisors in clinical placements, including the Post Anesthesia Care Unit, the Seidman Cancer Center, Rainbow Babies and Children's Hospital and others. 
Graduates will be considered for positions in the UH Nursing Department and its Nurse Residency Program, subject to vacancies and staffing needs of the hospital system. 
Benefiting Nursing Students and UH Patients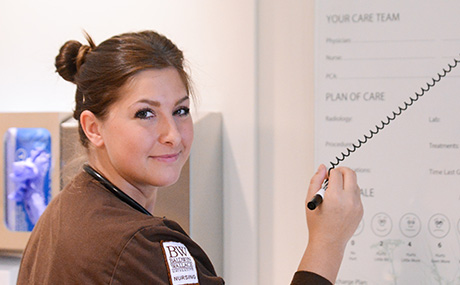 "We are excited to partner with the Baldwin Wallace School of Nursing in the implementation of this model." said Jane Dus, Chief Nursing Officer at UH. Dus anticipates that the hybrid DEU's focused preceptorship (mentoring experience) between an experienced nurse and a nursing student in a variety of settings "will better prepare (graduates) for the realities of working in the real world."
"This innovative model is a great example of a partnership between academia and practice that will not only benefit the students but our patients as well."
Powerful Partnership and Support
BW will receive close to $200,000 in OBN grant support over two years under the terms of the Nurse Education Grant Program (NEGP) established by the Ohio legislature and funded by $10 from each Ohio Nurse license renewal. NEGP aims to support nurse education programs that partner with health care facilities in innovative clinical placements that increase student nurse enrollment.
"We're grateful to OBN for making this partnership possible," said James R. Fell, Director/Interim Administrator of BW's Accelerated Bachelor of Science in Nursing (BSN) program. "We're eager to work with the exceptional nursing leadership at UH to provide an educational experience that prepares BW nursing graduates to deliver the highest quality of patient care. This new model has the potential to change the paradigm for how nursing education programs structure their students' clinical education across the curriculum."
Find Out More; Apply to the BW Nursing Program
The new UH program is in addition to BW's existing, accelerated BSN program that begins in August each year and includes a variety of clinical partners. BW is currently accepting applications for both nursing cohorts. 
For more information,
email nursing@bw.edu,
call (440) 826-8012 or
attend an information session.
The next BW Nursing Information session takes place on Sept. 29 at 5:30 p.m. at the Durst Welcome Center and you can RSVP online.
About the Ohio Board of Nursing
The mission of the Ohio Board of Nursing is to actively safeguard the health of the public through the effective regulation of nursing care The Board approves pre-licensure education programs to assure programs maintain academic and clinical standards for the preparation of entry-level nurses. The Board has a demonstrated track record of ensuring excellent public protection, funding initiatives to combat the nursing shortage, and regulating the largest number of licensed professionals of any agency in the State of Ohio. For more information, go to www.nursing.ohio.gov.
About University Hospitals
University Hospitals, the second largest private employer in Northeast Ohio with 26,000 employees, serves the needs of patients through an integrated network of 16 hospitals, more than 35 outpatient health centers and primary care physician offices in 15 counties. At the core of our $3.5 billion health system is University Hospitals Case Medical Center, ranked among America's best hospitals by U.S. News & World Report. The primary affiliate of Case Western Reserve University School of Medicine, UH Case Medical Center is home to some of the most prestigious clinical and research programs in the nation, including cancer, pediatrics, women's health, orthopaedics, radiology, neuroscience, cardiology and cardiovascular surgery, digestive health, transplantation and genetics. Its main campus includes UH Rainbow Babies & Children's Hospital, ranked among the top children's hospitals in the nation; UH MacDonald Women's Hospital, Ohio's only hospital for women; and UH Seidman Cancer Center, part of the NCI-designated Case Comprehensive Cancer Center at Case Western Reserve University. For more information, go to www.uhhospitals.org