Math Grad Finds Career Success at Disney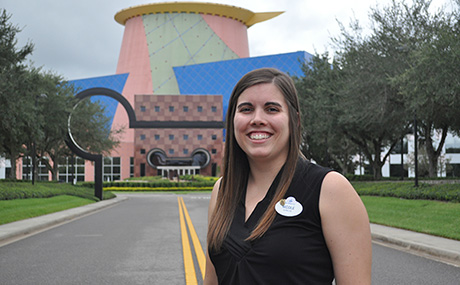 Where can you apply a mathematics degree? One BW math graduate couldn't be happier to be crunching numbers at the "Happiest Place on Earth." Nicole Bates '11 is currently working under the umbrella of Revenue Management at Disney World in Orlando, Fla.

A self-described "huge Disney fan" who had visited the company's Orlando theme parks many times growing up, Bates didn't think her mathematics degree would lead to a job with such an iconic brand and international Fortune 100 company. But she saw an internship opening with the Management Science and Integration Team supporting Disney-owned ABC television network and landed the position in 2013.
Bates quickly moved up into a full-time role as an analyst within Planning and Forecasting which supports Disney's Domestic Parks and Resorts, and recently she was promoted to the post of measurement analyst. Her current responsibilities include measuring revenue impacts and developing economic and international growth strategies within Disney's U.S. parks and resorts.
"Proud and Thankful" BW Math Major
Fondly known as the "resident math major" on her team, Bates is often tasked with projects and special opportunities that use the skills that she acquired during her time as a student in the math department here at BW, especially her critical thinking skills.

"I will never be able to fully explain how proud and thankful I am to be an alumna of BW, specifically of the math department," she tells us, "If not for the hard work and motivation from my professors and peers during my time in the program, I do not believe I would be where I am today."