Legendary Tennis Commentator, 1951 BW Grad, Honored at U.S. Open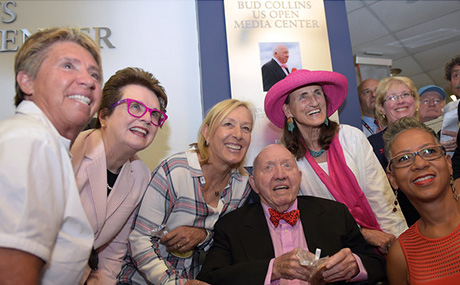 The U.S. Tennis Association (USTA) recognized the extraordinary career and colorful contributions of preeminent tennis journalist and commentator Bud Collins '51 over the Labor Day weekend, officially attaching his name to the media center at the Billie Jean King National Tennis Center during the 2015 U.S. Open. 

Following praise by Billie Jean King and other tennis luminaries at the early Sunday ceremony, Collins, attired in trademark loud pants and bow tie, quipped. "I'm at a loss for words. It's sacrilegious."
BW Athletics Hall of Famer Got His Start on The Exponent
The legendary tennis broadcaster and  BW Athletics Hall of Fame inductee began his sportswriting career at BW's student newspaper,  The Exponent. After graduation, Collins started writing for the  Boston Herald and later the  Boston Globe before going on to do tennis commentary for major broadcast news networks such as NBC and ESPN. He has also written several books including Bud Collins' Encyclopedia of Tennis and The Education of a Tennis Player.
Media Tributes Celebrate "the Best Friend Tennis Ever Had"
Media coverage of the dedication included a  New York Times tribute headlined, "Celebrating Bud Collins, a Tennis Treasure Told in Words and Pants," by Jon Wertheim. The story, which also appeared in  Sports Illustrated, ended with, "It's a nice and fitting honor. But we all know this truth: it just makes official what was always tacitly understood. It was Bud's room. The rest of us were just fortunate to be in his presence, lucky to call him a colleague."
New York Newsday wrote that Collins' "spirited work rendered him the sport's premier historian, conscience and connoisseur of fun," while a very personal New York Daily News column by his protege, Mike Lupica, was titled, "Bud Collins the best friend tennis ever had." 
The new commemorative plaque at the center reads, "Journalist, Commentator, Historian, Mentor, Friend." At BW, we'd add one more to that list: YJ4L!