BW Community Creates Lasting Tribute to Music Theatre Alumnus Kyle Jean-Baptiste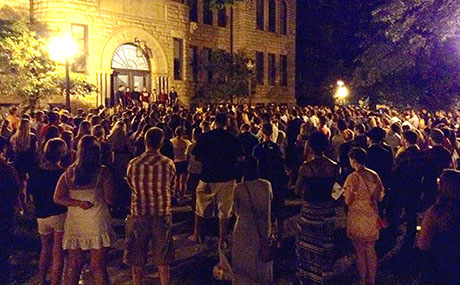 Gifted triple threat Kyle Jean-Baptiste '15 made history on Broadway with his big voice, but it was clear at the student-led celebration of his life at his alma mater Sunday night that the music theatre alumnus made an indelible impression on the Baldwin Wallace University community with his big heart.
Now, a newly formed scholarship fund at BW will carry his spirit and his dreams forward, while theatre lights on Broadway and in Cleveland will be dimmed in his honor on Tuesday night.
News of the 21-year-old's sudden death in an accidental fall from a fire escape in Brooklyn, NY stunned those who knew him and knew of him, and generated worldwide news coverage from the Cleveland Plain Dealer to the New York Times and beyond. 
BW Community Remembers and Pays Tribute
Jean-Baptiste's irrepressible and generous spirit, not only inspired an outpouring of memories, laughter and tears at Sunday's gathering outside Marting Hall, but also moved classmates to create a fundraising drive for a BW Music Theatre scholarship in his name. The crowdfunding campaign surpassed its $25,000 goal in 24 hours.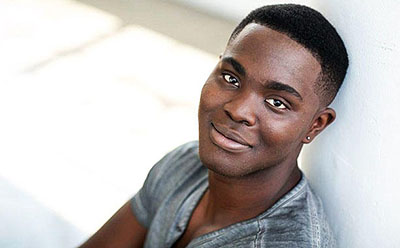 Funds raised in that campaign will be folded into The Kyle Jean-Baptiste '15 Music Theatre Scholarship, which "has been established at his alma mater, Baldwin Wallace University, to carry forward Kyle's legacy and benefit music theatre students." To make a gift in memory of Kyle, please make your check payable to Baldwin Wallace University, note "Kyle Jean-Baptiste MT Scholarship" on the memo line and send to Baldwin Wallace University, c/o Advancement Services, 275 Eastland Road, Berea, Ohio 44017. To make an electronic gift, go to www.b-wcommunity.net/give, in the designation dropdown, select Kyle Jean-Baptiste, and follow the prompts. For more information, call 440-826-2750.
Fast Rising Star Dimmed Too Soon
The talented tenor had barely departed Baldwin Wallace for the Great White Way, when, as an understudy, he took the stage as the first African American and youngest actor to play the lead in "Les Misérables" on Broadway in July. With growing buzz around him, Jean-Baptiste had recently booked a role in the upcoming Broadway production of The Color Purple, and was on his way.
Les Miz castmates and BW alumni in NY held a tearful gathering in Central Park on Monday, while a #Dim4Kyle campaign led to a decision by the Broadway League to dim the lights at Broadway's Imperial Theatre following the Tuesday evening performance of Les Miz in tribute to the groundbreaking young performer.
Back in Cleveland, Playhouse Square planned to dim its marquees on Tuesday evening as well. "Although this honor is typically reserved for legends, these unusual circumstances warrant an exception to the rule," Executive Producer Gina Vernaci wrote in an email. "We invite students, faculty and friends to join us on US Bank Plaza." 
Throughout the weekend, Broadway luminaries were among those who shared messages of sympathy on social media, and there was a special tribute at the Saturday matinee curtain call of "Les Miz," where BW Music Theatre graduate Chris McCarrell '13 also performs. 
"A Powerful Legacy"
A statement released by Jean-Baptiste's family read, in part, "With a smile 'yay wide,' a heart worn on his sleeve, and a song always on his lips, he walked with us for 21 years. To say he will be missed would be an understatement. Our pain has no boundaries. Kyle Xavier Seth Jean-Baptiste has left an indelible mark on all of our lives. His talent was boundless and his light was so bright. We are grateful for each and every day we got to spend with him. His energy will live on in each of us. We extend our gratitude to our extended family, Victoria Bussert, Scott Plate, Ben Sands, Cameron Mackintosh and friends — old & new." 
Bussert, who directs BW's nationally acclaimed music theatre program expressed the heartbreak and hope felt by grieving students, alumni and faculty. "He was one of the brightest stars of the program and leaves a powerful legacy for those following in his steps. "