BW Offers Winter Olympics Insights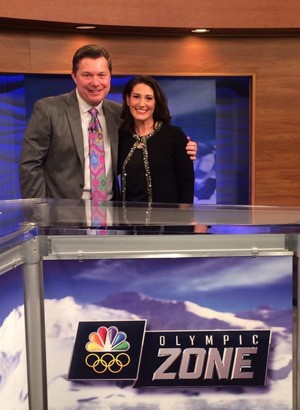 As millions of Americans tuned in to cheer their country's athletes competing in the 2014 Winter Olympics, BW faculty and alumni provided expert commentary for the media during coverage of the games.
Former Olympic alternate for the 1998 figure skating team and BW alumna, Tonia Kwiatkowski '94, was featured as the figure skating analyst for WKYC-TV's nightly Olympic Zone, as well as commentator for icenetwork.com. Although Kwiatkowski never participated in the Olympic games, she succeeded as a top flight skater in national and international competitions, even during her time as a BW student.
Kwiatkowski won a silver medal during the 1996 U.S. Championship and finished her amateur skating career with a 6th place finish at the 1998 Worlds.
Science and Politics of the Olympics
WKYC-TV also called on BW physics professor Dr. Ed Meyer to explain and demonstrate the science behind winter sports for the station's Olympic Zone. "Every athlete gets the same amount of potential energy," Meyer said. "The person that wins uses the most energy to convert it to speed, which is kinetic energy."
Meyer also explained how athletes work to reduce friction and air drag and demonstrated the angular momentum that helps an ice skater spin faster. Reporter Sara Shookman taped the 3-minute segment for Channel 3 before departing for Sochi to cover the games.
WKYC also called on BW international studies professor, Dr. Judy Krutky, to provide expert analysis on security and politics surrounding the Olympics. Krutky addressed terrorist security concerns and said the games have a long history of political expression. "Political statements using the Olympic forum have taken the form of a black power salute on the medal stand in Mexico City, to the terrorism and bloodshed at Munich."
BW's Olympic Silver Medalist
The history of the Winter Olympians does include a medalist from the Yellow Jacket "family."  BW alumna Jennifer Fish (Baker) '71 competed in the 1968 Winter Olympics during her freshman year. Baker tied for second place with two other U.S. athletes in a 500 meter speed skating race, making for an unusually crowded silver medal stand. Baker's biography is featured in the BW Sports Hall of Fame.