James Thomas '59, to be Inducted into OFIC Hall of Excellence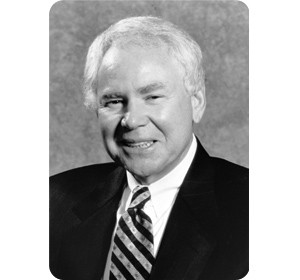 BW trustee James A. Thomas '59, chairman and CEO of Thomas Properties Group, Inc., will be inducted into the Ohio Foundation of Independent Colleges Hall of Excellence April 16 in Columbus. He is the ninth BW alumnus to be so honored.
"Jim Thomas' career has been marked by uncommon vision, creativity, personal drive and the highest standards of integrity," said BW President Robert Helmer. "He truly exemplifies the attributes that we in independent higher education strive to instill in our students and provide to the broader society."
After graduating from BW in 1959 with honors in economics, he earned his law degree magna cum laude from Cleveland State University, where he also edited the law review. He was a partner in two prominent Los Angeles law firms and served in the Chief Counsel's Office of the Internal Revenue Service in Seattle and Los Angeles.
His early career experience helped him become an expert in real estate law, federal income taxes and development issues, skills that ultimately helped him become one of the nation's largest mixed-use, commercial and residential developers whose vision was credited by the Los Angeles Times with shaping that city's skyline and its urban spaces.

Visionary Business Leader Lauded Nationally

Jim Thomas has been lauded repeatedly for providing visionary leadership for scores of projects across the country that transform and enhance the quality of life in the municipal areas and for the people living there.
Called "the driving force behind some of the highest-profile projects in Southern California," the Sacramento Bee noted that his firm "earns lavish praise from both the public and private sectors for hatching architecturally stunning buildings that satisfy the divergent interests of big corporations, environmentalists and city planners." Beyond Southern California, Thomas Properties Groups has flourished as a full-service real estate company that develops, owns and manages office, retail and multi-family properties on the West Coast, Middle Atlantic States and Texas.

The former BW basketball player also is known as the former co-owner and managing partner of the NBA's Sacramento Kings and other professional sports franchises. His commitment to the community can be seen in his devotion to the arts and his volunteer efforts to improve the quality of life in metropolitan Los Angeles.
Proud YJ4L Dedicated to Helping Students, Community
Among the numerous board leadership positions he has held are the Music Center of Los Angeles, the Museum of Contemporary Art, L.A. 2000 Regional Partnership, a diverse committee which addresses Southern California regional urban issues, the Los Angeles Sports Council, Ralph M. Parsons Foundation, Thomas Family Foundation and many more.
A dedicated advocate for Baldwin Wallace, Thomas is quick to tell others, "the professors I studied with and the experiences that I had at BW changed my life and helped shape the person that I would become." He received the BW Alumni Merit Award in 1998 and an honorary doctorate in 1999. He joined the BW Board of Trustees in 2002 and has served on the committees that oversee institutional advancement and investment.