BW Psychology Majors Prep Four-Legged Students for National Therapy Dog Exam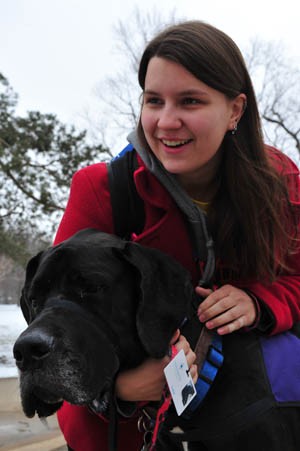 Huge and intimidating. These words might spring to mind when you see Luca, a 3-year-old black Great Dane, wandering the Baldwin Wallace University campus with various student handlers. He is, in fact, large—very large—but intimidating? No. Get a closer look and Luca is more akin to an oversized teddy bear.
Luca is one of three therapy dogs in training that have been accompanying BW student handlers around campus this year, including into dining halls and classes. The other two dogs include Chloe, a three-year-old Sheltie and Ivy, a one-year-old German Shepherd, who is currently on leave from the program.
OhioGuidestone, which serves children, youth and families needing specialized therapeutic programs, has partnered with the BW Department of Psychology to provide students the opportunity to help train the dogs to pass a national therapy dog assessment. Thirteen BW students were trained to use the Choice Teaching protocol to reinforce appropriate behavior with positive verbal commands and praise. Students have the option of earning internship/field experience credit for their work with the dogs.
Canine Cure for Stress and Anxiety
Psychology major Annie Carver '14, who has worked with all three dogs this semester, believes she is getting as much as she is giving. "Not only am I training them; they're training me," she said. "It's helped me with time management and scheduling and I swear they are therapeutic for me, too."
The three successful applicants, out of six dogs that sought training, were chosen by OhioGuidestone based on such factors as their calm demeanor, intelligence, enjoyment of human contact, and even bladder control.
If they succeed at passing the national Therapy Dog International (TDI™) test, the dogs, which are owned by and live with OhioGuidestone therapists, will be used to reduce anxiety and function as a non-threatening sounding board on OhioGuidestone campuses.
"The children and youth we serve really relate to the dogs; they are able to talk about trauma and they literally whisper their fears to the dogs," said Rivienne Levin, co-director of the OhioGuidestone K9 Partners Program. "They are a wonderful stress reducer and therapy tool."
Watching Waves of Stress Wash Away
Occasionally, there is confusion when more than one BW student handler is in the same class. "You can see the dogs looking at the other handler, but they wear a work collar and are trained to resist their social urges when that work collar is on," Carver explains.
Even during their ongoing training at BW, the dogs are capable of providing the calming influence that is the hallmark of a working therapy dog.
"We made the dogs available to interact with BW students at the library before and during finals week and you could just watch a wave of stress wash away," said Levin.
Dr. Charles Levin, chair of BW's Psychology Department, is faculty coordinator for the therapy dog program. "Not only are our students gaining hands-on experience with service animals, but the presence of these dogs on the BW campus has a positive effect on the entire community," Levin observed. "I look out my office window and regularly see students stopping to interact with the dogs when they're out on the North Quad four or five days a week."
Integrating Therapy Dogs into Psychology Career Path
Carver, who also interned with Hanson House where she was exposed to the Wags for Warriors canine therapy program for veterans, is now interested in further exploring the use of therapy dogs to mitigate PTSD (Post Traumatic Stress Disorder) as she graduates and begins her career.
"After owning dogs as pets my whole life, this has really opened my eyes to a whole new way that dogs can help people with anxiety issues," Carver said.
"Witnessing the learning and skill development of the dogs and the students growth in their confidence in training and working with the dogs has made this program a wonderful experience for OhioGuidestone, BW and the dogs," said Levin.