Successful BW Finance and Economics Grad Publishes Book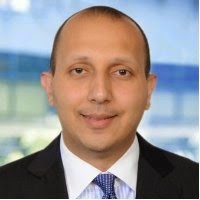 BW alumnus, Sherif Ayoub '96, has recently published a new book, Derivatives in Islamic Finance: Examining the Market Risk Management Framework. The book "offers a fresh perspective on the challenges facing the Islamic finance industry." The book is just the latest addition to an impressive list of accomplishments for the BW economics and finance graduate.

After earning his undergraduate degree, the Lakewood High School and BW graduate worked in the Peace Corps, studied at Columbia University, where he earned a Masters Degree and, then went on to the University of Edinburgh, where he earned his Ph.D.

Ayoub is a member of the Board of Directors for the Bahrain  Islamic Bank and preparing to take a new position as Assistant Secretary-General, Finance and Administration, with the Islamic Financial Services Board (IFSB) in Malaysia. He is currently Advisor to the Vice President of the Islamic Development Bank, Finance. He also has served as a Visiting Fellow at Harvard University and a Visiting Scholar at the International Centre for Education in Islamic Finance (INCEIF).