Student-Athletes Score Big at Nationals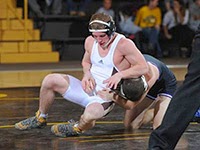 It was an amazing week for BW student-athletes Jesse Gunter '16, and members of the women's basketball and wrestling teams.
Talent and tenacity led Gunter, who has 10 percent vision in one eye and none in the other, to a third place finish and All-America status at the 2014 NCAA Division III National Championship Tournament. His coach, Jamie Gibbs, believes Gunter is just beginning to tap his potential. The story was reported in the Plain Dealer and covered by WKYC.
The women's basketball players also netted success this season, as covered by major Cleveland media. Their outstanding Sweet 16 ride to nationals bridged on-court teamwork with off-court heroics and bonding that include saving a child from drowning, motherhood and family-like camaraderie. Although the team fell to home-court advantage Fairleigh Dickinson (N.J.) University-Florham in playoffs, it was BW's 12th NCAA Division III women's basketball tournament in the 24 years Cheri Harrer has coached.
Congrats also to three members of the track team who became NCAA Division III All-Americans at the Indoor National Championship Meet in Nebraska. They include senior sprinter Kevin Johnson and sophomores Melanie Winters and Kim Gallavan in the long jump and 20-pound weight throw.