BW Students Attend IMO Meeting in London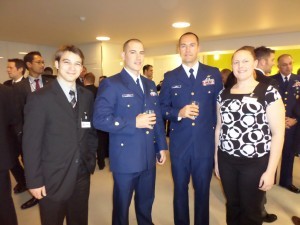 Two senior Baldwin Wallace students, Sarah Brigadier '15 and Charles Henderson '14, received a once in a lifetime opportunity to attend the biennial International Maritime Organization meeting in London as guests of BW alumnus, Vice Admiral Peter Neffenger.
By Nathan Cole '17
When Vice Admiral Peter Neffenger '77, U. S. Coast Guard Deputy Commandant for Operations, makes an April appearance at BW, two BW students will be reconnecting with this distinguished BW graduate. Neffenger gave the students a seat at the International Maritime Organization (IMO) General Session in London, an incredible opportunity they will never forget. 
The students arrived in London after completing extensive research and preparation that enabled them to facilitate dialogue with international delegates on issues affecting global policy. They also heard directly from leaders within the IMO about the ins-and-outs of their roles.
Immersion in International Politics
Every day during their trip, Brigadier and Henderson sat in on assembly sessions. They attended receptions held by the Japanese Embassy, Russian Embassy, Chinese Embassy, and the Turkish Reception, among others. These experiences gave them both an inside look into the structure and functions of the IMO.
In addition to immersing themselves in the realm of international politics, Brigadier and Henderson were able to spend some time touring the city of London, such as sightseeing and enjoying dinner with Admiral Robert Papp from the United States.
Exceeding Expectations
As a Sustainability and Biology double major with a minor in International Affairs, Brigadier set out to use this experience to network and learn more about the environmental issues concerning the IMO. The experience exceeded her expectations.  "When I am able to bring all of those experiences back with me and use them to teach and encourage others to explore and engage in similar activities, it gives me a deeper sense of purpose in my own life," she said.
Henderson, a double major in International Affairs and Political Science with a minor in History, said he valued the opportunity for professional development and enjoyed being able to apply what he has learned in the traditional classroom setting in real life.
Witnessing "the Human Element of International Cooperation"
As part of their deep dive into the IMO, Henderson and Brigadier interviewed several IMO delegates, including Captain Eduardo Raul Polemann from Argentina, Captain Aleksander Gersen from Israel, and VADM Neffenger.
When asked how the IMO works, Neffenger's words eloquently expressed one of the invaluable benefits Brigadier and Henderson received on their trip. "It's the people that make this thing work," Neffenger told the students. "A lot of these people I've known for many years, and it's always a reunion when we meet here again. Those connections foster trust, that's the human element of international cooperation."
The IMO opportunity was sponsored by the Political Science and International Studies Department, with Dr. Tom Sutton leading the process that ultimately selected Brigadier and Henderson from a pool of 19 BW applicants. Before they departing on the late November journey, the students researched the IMO with the help of their independent study adviser Dr. Judy Krutky.