BW Community Unites for Day of Academic, Creative Success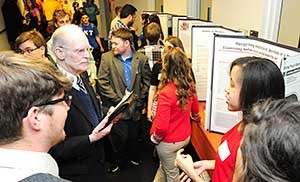 A premier capstone celebration, Ovation 2014 was a high-energy, day-long event showcasing the best of BW through posters, displays, live presentations, performances and the traditional Honors Award Ceremony.
Held Thursday, May 1, the annual event spotlighted the creativity, research and academic and artistic achievement of BW students. The day concluded with a campus-wide Honors Award Ceremony that recognized students with scholarships and awards, and honored seven faculty members for their dedication to teaching and learning.
"Ovation is a time for students, their families, faculty and staff to come together and celebrate Baldwin Wallace as a community of learners who are engaged and invigorated in their studies and the pursuit of personal and professional success," explained BW Provost Stephen Stahl.
"This year we took a new direction for Ovation," he continued. "We moved it to a new location and held it on a weekday. We recessed day classes in order to make it convenient and in sync with campus academic programming."
2014 Ovation Winners
Student Recognition
A. Fred Crossman Leadership Prize
Brianna Razzante
Alan Blumenthal Prize in Student Government
Kevin Warman
Dr. Mark G. Noffsinger Award for Leadership
Patrick Hamilton
Mark G. Noffsinger Award for Outstanding RA
Courtney DeSchepper
Barbara H. Fortin Award for Outstanding First-Year RA
Patrick Hamilton, Carli Metz
Bonnie Raye Scholar/Athlete Award                          
Ellen Fedick
Clyde Lamb Scholar Athlete Awards                         
Brooke Hradisky, Judson Sprandel                            
Kenneth F. Steingass Outstanding Senior Male Athlete Award       
Kevin Johnson
Outstanding Senior Woman Athlete Award             
Jessica Lairson

Overmyer Achievement Award
Brianna Razzante              

Will Richmond Prize in Photography
Lydia Griffiths  

Student Senate Faculty Excellence Award
Dr. Judy Krutky

Student Senate Staff/Administrator Excellence Award
Dr. Amy Story

Professor David Prok Humanitarian Award for Social Justice in Sex and Gender Diversity
Emily Householder
Outstanding Senior Awards Class of 2014
Rachel Spiker, Alexandra Farone, Daniela Muhaj, Zachary Barley, Ellen Fedick, Sophia Viglione, Brooke Hradisky, Jason Roberto, Patrick Mahoney, Kayla Rodriguez
Academic Recognition
Michael Keith Dwyer Art Scholarship
Grace McConnell

Dr. Harold Cole Scholarship
Hayley McGuirk

Ruegsegger Prize in Biology
Kara Gawelek                                                                         

Mark Gorman Scholarship
Janace Gifford

Kenneth & Lucy McCauliff Scholarship
Rachel Zacharias

Amling Investment Award
Eric Gase

Dr. Jacob O. Kamm Award
Clayton Wolf                                                              

Lubrizol Foundation Business Administration Award         
Thomas Kasper

Ralph M. Dunbar, Jr. Scholarship
Seulah Lee, Keesha Sellars               

Walter & Elaine Mueller Scholarship
Maria Curcio                                                               

Willard E. and Donna J. Carmel Scholarship
Bryan Mays                                                                

Chemistry Department Memorial Scholarship
Erin Bryant, Kaelynn Maatz

Lubrizol Foundation Chemistry Award
Kyle Shifano

Harry and Louise Kiefer Chemistry Scholarship
Hannah Bowie

Dr. Sardari L. and Sunita Arora Scholarship
Michael Brennan

Norman Wells Chemistry Scholarship
Benjamin Brown
Adult Senior Academic Awards
Jennifer Dreher, Kevin Petro, Jill Borling, Cheryl Sebjenics, Mercedez Hathcock

Pavsek Award for Excellence in Economics
Daniela Muhaj, Bradley Sevcik

Dr. Albert L. Gray, Jr. Prize in Economics
Thomas Kasper

Greg Pett Award
Michael Lamoreux, Ryan Mitchell 
Jess & Arline Petty Scholarship
Jennifer Lenart

Division of Education Scholarship Fund
Michael Ellis                                                               

Alice Benedict Gagen Prize in Elementary Education
Kenneth Murphy

Harold A. & Louise Cramer White Prize
Alexander Evers                                                                        

Ted & Irene Theodore Scholarship
Maria Gresko, Marissa Redden, Kelsey DeCoste, Laura Vidmar

A. W. "Bud" Collins, Jr. Prize for Creative Writing
Matthew Gesicki

Amelia & Clara Harding Scholarship
Heather Biernacki, Caroline Dugan

Bertha L. Stiefel Scholarship in English
Olivia Nanyes, Faith Nordine

English Department Essay Prize
Nicole Campeotto

Ruby Redinger Prize in English
Timothy Murphy
Dr. Neille & Jeanne Shoemaker English Scholarship  
Tessa Comnick, Kayse Schmucker, Russell Brill, Abigail Snow, Sydney Crago

Robert Howells Memorial English Scholarship          
Jenna Burnett

Twila Haines Coxon and A. William Coxon, M.D. Scholarship
Nicole Campeotto, Brent Skoda

A.B. & Georgianna Bonds Scholarship
Lucas Stanek, Kyle Kuehn

Dr. William D. and Mary Pendell Memorial Scholarship
Samantha Drees, Michelle Collins
Hower/Stover Award
Ellen Fedick

Dr. Robert H. Lechner Memorial Service Award
Stephanie Porter

Lee Tressel Scholarship
Heather Keller                                                             

David R. and June Demmerle Scholarship
Kari Trivisonno

Dr. Cornelius D. Penner Memorial Award
Kristen Griesmer

George R. Grame Award
Paul Krause

Outstanding Senior – Computer Information Systems Analyst
Jill Borling

Outstanding Senior – Network Analyst
Aric Gady

Outstanding Senior – Computer Science
Benjamin Gentzel

Outstanding B.A. Mathematics Student
William Roth

Outstanding B.S. Mathematics Student
Bradley Sevcik               

Dr. Emory C. Unnewehr Award
Samuel Schwab 
O. L. Dustheimer Astronomy Prize
Parris Frazier                                                               

Robert and Dorothy Bell Memorial Award
Charles Henderson, Daniela Muhaj

Laura Anders Canis Philosophy Scholarship
Robert Stammitti

Dr. Delo C. Grover Award
Darrielle Allen                                                             

Dr. Ernest L. Welborn Scholarship in Psychology
Jenna Greku                                                                

Pitcher Psychology Award
Elle Benko  Nuha Alshabani                                       

Vogel Psychology Scholarship
Zachary Barley

William Prokasy Psychology Alumni Award
Ashley Smith, Mei Yeung-Jeffery   

Dr. Ernest Knautz Award
Johanna Hoffman

Fred E. Harris Award
Sarah Bell   Jonathan Jackson

Mary & Hugh Burtner Student Prize in Religion
Adam Lyons

Hertzler Sociology Scholarship Award
Brooke Hradisky

Hertzler Sociology Research Award
Rebecca Shisler

Hertzler Applied Sociology Award
Sara Mattinson

Suzanne Claflin Strew Dance Scholarship
Jessica Blanarik, Genna Kanago

Dana & Marie Burns Drama Scholarship
Kacey Faix

Douglas Hall Memorial Theatre Scholarship
Mikala Wilkins                                                            

William & Mary Lou Allman Drama Scholarship
Nora Dlugo Ryan Gadjos                                                        

Lillian and Larry D. Bibbee Scholarship
Jordan Smith                                                               

John F. and Ida E. Gibler Scholarship
Joseph Kasper, Harisa Lagji
Presentation Awards

We All Want to Change the World: A Deconstruction of the "White Album"
Patrick Hyzy
Faculty Sponsor: Dr. Beth Hiser

Exposure to NMDA Receptor Antagonists at P7 Alters Prepulse Inhibition at P21 in Rats
Janace Gifford, Rachel Zacharias
Faculty Sponsor:  Dr. Brian Thomas

SPROUT: Long-Term Impacts of Residential Programs for Single-Parent Students in Higher Education
Rebecca Shisler, Brook Hradisky
Faculty Sponsor:  Dr. Jill Stephens Fleisher

Greek Life Award

Seasonal Patterns of Anthocyanin Production in NE Ohio Plants
Katie Nadson (Alpha Gama Delta)

People's Choice Award

YJ4L