BW Gains Full, Five-Year State Approval for Accelerated Nursing Program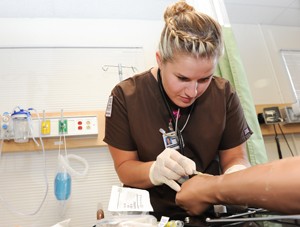 The Baldwin Wallace University Accelerated Bachelor of Science in Nursing (ABSN) program is now fully approved by the Ohio Board of Nursing (OBN).
The full, five-year approval by the state board, granted on Friday, replaces the conditional approval that has allowed BW to operate the program since its inception in mid 2012.
OBN approval also follows the April 2014 national accreditation by the Board of Commissioners of the Commission on Collegiate Nursing Education (CCNE) through June 2019. CCNE is a nongovernmental peer review process that assesses and ensures the quality and integrity of baccalaureate, graduate, and residency programs in nursing. BW also was accepted for membership into the American Association of Colleges of Nursing earlier this year.
State Approval, National Accreditation and Successful Grads
"State approval, national accreditation and successful outcomes for our graduates all speak to the superb quality of nursing education that BW is providing through the hard work of our program faculty and staff led by James Fell (director/interim administrator and associate professor)," said BW President Robert C. Helmer. "We are committed to maintaining the highest standards of excellence in order to develop exceptional nurses to meet the needs of Northeast Ohio's respected healthcare providers."
Stellar Nursing Exam Pass Rates
As recent graduates from BW's second nursing class prepare to take the National Council Licensure Examination for Registered Nurses (NCLEX-RN), they can be buoyed by the outstanding results for the first class. Members of BW's July 2013 ABSN graduating class notched an impressive 95 percent first-time NCLEX pass rate, exceeding both Ohio and national rates for first-time test takers, and placing BW among the top-performing nursing programs in the state.
BW initiated the 12-month post-baccalaureate nursing program in August 2012 in response to the rising demand for degreed nurses at hospitals, clinics and public health agencies, which increasingly expect nurses to hold at least a bachelor's degree. BW's intensive program gives adults who already hold a bachelor's degree in a different subject area a fast track to a nursing career.
BW Nurses on the Job
BW's first graduating nurses are now working in many Northeast Ohio health care organizations including Southwest General Health Center, University Hospitals of Cleveland, MetroHealth Medical Center and Akron Children's Hospital. BW nurses work in such specialties as medical surgical, trauma, burn, labor and delivery, neonatal intensive care, pediatric, skilled nursing, coronary intensive care and psychiatry.
The ABSN program is part of a newly formed School of Health Sciences at BW that includes nursing, communication disorders, public health and a physician assistant graduate program. In 2015, BW will add a new master's degree in speech language pathology to that list of programs.