Baldwin Wallace Launching New Master's Degree in Speech-Language Pathology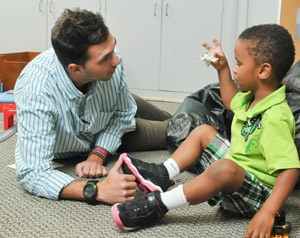 Career field projected to grow by 19 percent through 2022; applications and information sessions begin in September.
Baldwin Wallace University is preparing to offer a new Master of Science degree in speech-language pathology beginning in fall of 2015, and will begin taking applications for the program starting Sept. 17. The new two-year program combines classroom instruction with comprehensive clinical practice to prepare graduates for an in-demand field with high job growth projections.
Small Classes, Faculty Mentors, Clinical Experience
According to BW Provost Stephen Stahl, the new program is structured to include the hallmarks of a BW education: small class sizes and faculty mentoring. "The MS in speech-language pathology also will include extensive clinical experiences that will prepare our graduate students for licensure, certification, and employment in health care, education, agency and private practice settings," he said.
Students will have opportunities to provide speech, language and hearing services to a wide variety of clients under the supervision of a licensed and certified speech-language pathologist through community outreach initiatives, hospital internships and hands-on time in BW's respected on-campus Speech Clinic.
Growing, Highly Compensated Field
Stahl said the BW program also aligns with the economic strengths of Northeast Ohio, which is internationally ranked and renowned for its medical facilities. Federal income data pegs the annual median salary for practicing speech-language clinicians at $70,000. The Department of Labor projects a 19 percent increase in this career field through 2022.
The application deadline for students entering the program in Fall 2015 is January 15, 2015. The first information session for the new program will take place on September 23 at 5 p.m. at the Durst Welcome Center.
Accreditation Status
BW's MS program in speech-language pathology is in the process of applying for Candidacy for Accreditation by the Council of Academic Accreditation in Audiology and Speech-Language Pathology (CAA) of the American Speech-Language-Hearing Association. Candidacy is a "pre-accreditation" status with CAA, awarded to developing or emerging programs for a maximum period of five years.