New Direction Builds Momentum for Ovation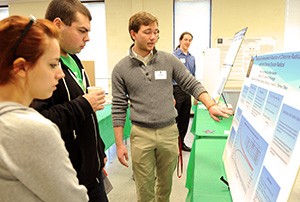 What started seven years ago as an innovative event uniting the campus community for academic and creative recognition and activities has morphed into a premier capstone celebration of the academic year.
"Ovation is a time for students, their families, faculty and staff to come together and celebrate Baldwin Wallace as a community of learners who are engaged and invigorated in their studies and the pursuit of personal and professional success," explained BW Provost Stephen Stahl.
"This year we took a new direction for Ovation," he continued. "We moved it to a new location and day. We are hosting it on a Thursday and recessing day classes in order to make it convenient and in sync with campus academic programming. We also invited our graduate programs to participate.
"Our new approach has proved beneficial. We've doubled the number of student participants as well as projects being showcased," he noted.
Day of Student Presentations, Performances, Artwork
Held every spring, Ovation is a high-energy event that showcases student success. Students representing all academic divisions of the University present their research, academic and creative work in the form of posters, displays, live presentations and performances.
This year over 330 students representing all seven academic divisions will be participating. Nearly 170 projects will be showcased, with special attention being given to Jacket Philanthropy as the featured program of the year.
New this year will be interactive club displays by BW student groups. Among them, the Association of Computing Machinery will offer demos of its virtual reality headset, which will enable users to have the simulation of riding in a roller coaster. BWise will bring its vision impairment goggles so participants can see how their vision declines if intoxicated and The National Student Speech Language Hearing Association will offer teaching stations on facets of communication disorders.
Applauding Student, Faculty Success
The culminating event of the day is the Honors Day Awards Ceremony, in which students are recognized with scholarships and awards for academic and co-curricular achievements. BW also honors faculty at the event with its most prominent awards for outstanding achievement.