Conservatory of Music Names Conducting Trio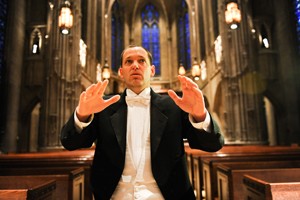 The Baldwin Wallace University Conservatory of Music is injecting a triple shot of new energy into its instrumental music programs this fall.
The May retirement of longtime BW conductor Dwight Oltman led to a restructuring of conducting duties, and the Conservatory seized the opportunity to add three gifted conductors to the BW faculty.
Octavio Más-Arocas, a versatile, dynamic and prize-winning Spanish-born musician, will be the new conductor of the BW Orchestra; Brendan Caldwell, comes on board as Director of Wind Ensembles from a similar position at University of Wisconsin-Stevens Point; and David Pepin, fresh off stints with Broadway shows like KINKY BOOTS and WICKED, will take over as Music Director for BW Music Theatre.
"All three of our newly named conductors are serious, phenomenally talented musicians," said Susan Van Vorst, Dean of the Conservatory of Music. "But they also bring a collaborative, interdisciplinary, highly engaging style of teaching to BW. We expect them to wow and draw in the wider campus and Northeast Ohio communities, as well."
BW Talent Tapped as New Director for Bach Festival
In addition to the new conductors, Dirk Garner, who directs Choral Studies, University Choir and Motet Choir for BW, will succeed Oltman as Director of BW's venerable Bach Festival. The nation's oldest collegiate Bach Festival also is expected to evolve and grow under fresh leadership.
"Dirk has so many creative ideas for expanding the performance opportunities that fall under the Bach Festival umbrella," said Van Vorst. "Bach fans can count on BW to sustain the tradition of the annual Bach weekend, but we're also looking to add non-traditional events throughout the year that will appeal to new audiences and broaden the accessibility of the music."
Read more about BW's new conductors: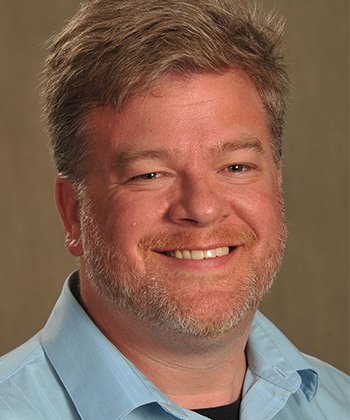 Dr. Brendan Caldwell, Director of Wind Ensembles
Brendan Caldwell is the new director of wind ensembles and will be both teaching and conducting in this role. As director of bands at University of Wisconsin-Stevens Point, he conducted the UWSP Wind Ensemble and Concert Band, taught undergraduate and graduate level classes and co-directed the instrumental UWSP Apprentice Conducting Program.
Caldwell's research and scholarship have explored personal and musical transformation through the spiritual practice of "Integrated Listening," a unique approach to pedagogy that has been modeled by institutions across the country. At UWSP, he also directed the ''Courtyard Connections Forum,'' a lecture series, modeled after the TED Talks, which brought audiences together from across the campus community.
Caldwell's degrees have come from Louisiana State University, the University of Colorado, and the University of Minnesota.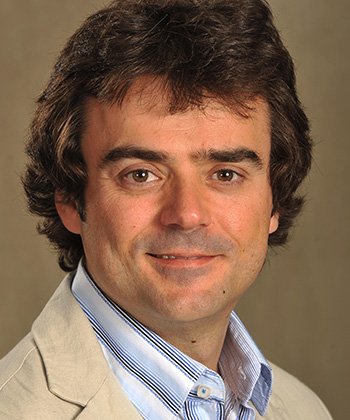 Octavio Más-Arocas, Director of Orchestral Studies
Octavio Más-Arocas, a versatile, dynamic and prize-winning Spanish-born musician who has conducted orchestras across North and South America and Europe, takes up the BW Orchestra baton. Viewed as a rising star in 2011, Más-Arocas was awarded the prestigious Felix Mendelssohn-Bartholdy Scholarship, subsequently traveling to Europe to serve as the assistant to Maestro Kurt Masur with the Leipzig Gewandhaus and the Helsinki Radio Orchestras.
An enthusiastic advocate of new music and composer as well, Más-Arocas most recently served as Director of Orchestral Studies and Conductor of the Symphony and Opera Orchestras at the Lawrence University Conservatory of Music in Wisconsin and Resident Conductor at the Sewanee Summer Music Festival in Tennessee. Más-Arocas also served as assistant conductor at the Madrid Royal Opera House and conducted fully-staged opera productions with the Bowling Green State Opera.

His degrees have come from Bowling Green State; Bard College; Accademia Musicale Pescarese, Pescara, Italy; and Conservatorio Superior de Musica, Valencia, Spain.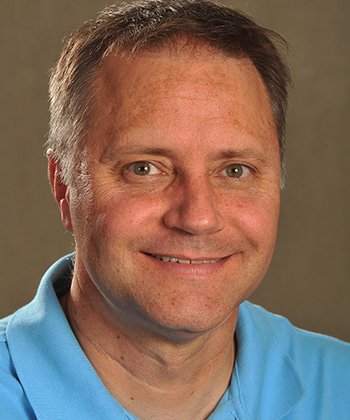 David Pepin, Music Theatre Music Director
David Pepin, will take over as Music Director for the Conservatory's acclaimed Music Theatre Program. Pepin most recently played or conducted for such Tony Award-winning smash hits as KINKY BOOTS and WICKED.
"David brings a wealth of top-level Broadway Music Direction and keyboard experience to the BW campus," said Victoria Bussert, director of BW's Music Theatre program. "He has collaborated with some of the most respected music theatre creative teams in the entertainment industry today; we are thrilled to offer his considerable talents to benefit our student musicians."
Pepin also served as Music Director and helped to develop BRING IT ON: THE MUSICAL, nurturing the show through a national tour and all the way to a Tony-nominated Broadway run. Other recent Broadway credits include THE BOOK OF MORMON, THE ADDAMS FAMILY, SHREK: THE MUSICAL and RENT. He studied music at Ithaca College School of Music.