Neuroscience Major Secures Major Grant for Thesis Project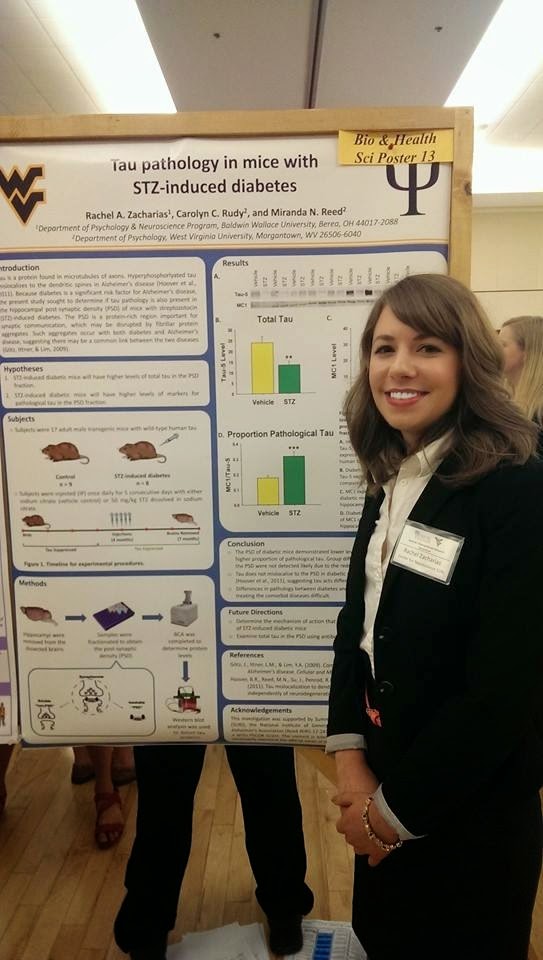 Rachel Zacharias '15 won a prestigious $5,000 grant from the International Honor Society in Psychology, Psi Chi, to fund the research for her thesis project. This is just one of many successes for the impressive neuroscience and psychology major.
Zacharias just wrapped up a summer internship at West Virginia University where she won recognition and a cash prize for her poster presentation. She spent the summer at WVU as part of a Research Experiences for Undergraduates (REU) program.
"I learned lab techniques, such as running western blots and radial arm water maze testing, that will be helpful as I continue my career in neuroscience," she said of the experience. "One of the highlights was attending the WVU Neuroscience Retreat at Oglebay, where I won an award for my poster presentation of my research project." She was one of just four undergrads to receive recognition.
With a successful summer behind her, Zacharias now turns to her thesis research, which focuses on possible treatments for the negative impacts of Post Traumatic Stress Disorder (PTSD) on daily life. She hopes to "discover more about the effectiveness of (the drugs) acetazolamide and corticosterone as either prophylactics or treatments for PTSD."