BW to Broadway: a Two-Way Street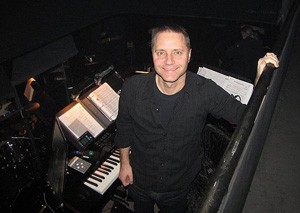 Baldwin Wallace University's acclaimed Music Theatre program, which has been sending graduates to Broadway for years, has attracted an accomplished Broadway Music Director to the Berea faculty.
David Pepin will serve as Music Theatre Music Director in BW's Conservatory of Music beginning with the fall semester. Pepin currently plays or conducts on such Tony Award-winning smash hits as KINKY BOOTS and WICKED.
"David brings a wealth of top-level Broadway Music Direction and keyboard experience to the BW campus," said Victoria Bussert, Director of BW's Music Theatre Department. "He has collaborated with some of the most respected music theatre creative teams in the entertainment industry today; we are thrilled that he is bringing his considerable talents to benefit our student musicians."
BW Builds upon Already Strong Ties to Broadway
Pepin also served as Music Director and helped to develop BRING IT ON: THE MUSICAL, nurturing the show through a national tour and all the way to a Tony-nominated Broadway run. Other recent Broadway credits include THE BOOK OF MORMON, THE ADDAMS FAMILY, SHREK: THE MUSICAL and RENT. Pepin also has collaborated on the national tours of WICKED, ALL SHOOK UP and RENT. He assumes the rank of Associate Professor of Music in August 2014.
"The breadth of David's Broadway experience is not only an asset to the artistic development of our students, but builds on the strong ties BW has developed with Broadway," said Susan Van Vorst, Director of BW's Conservatory of Music. "This appointment is simply the latest evidence that the Conservatory is committed to an unparalleled standard of career preparation for our students."
BW to Broadway - New Roles Announced
Meanwhile, the latest BW Music Theatre alumni success on Broadway includes the announcement that Ciara Renee '13 will take over for Tony Award-winner Patina Miller as the Leading Player in the Broadway smash revival of PIPPIN beginning April 2. Another 2013 graduate, Chris McCarrell is set to appear in the Broadway revival of LES MISERABLES.
BW Music Theatre alumni continuing in extended Broadway runs include Kate Rockwell '07, starring as Sherri in ROCK OF AGES, Kyle Post '06 featured in KINKY BOOTS, Jill Paice '02 starring as Miss Honey in MATILDA and Thomasina Gross '02 in MAMMA MIA.