Baldwin Wallace University Earns LEED Certification for Two Buildings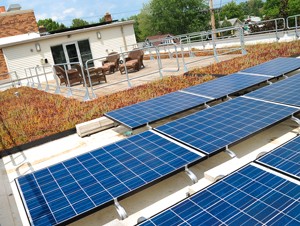 Sustainable practices are yielding green benefits and operating savings on the Berea campus.
Baldwin Wallace University has earned LEED certification for two buildings as the University continues its longstanding, award-winning effort to build sustainable infrastructure and practices on campus.
Combined with other recent initiatives, like a new solar trash compactor and green landscaping, increased sustainability continues to pay off in benefits for the environment and BW's bottom line.
Wide Ranging Sustainable Practices Earn Certification
The Durst Welcome Center, the newly constructed visitor's center that opened in 2012 on Tressel Street and features geothermal climate control and other sustainable features, was the first to notch LEED certification.
That achievement was quickly followed this fall by GOLD LEED Certification for the R. Amelia Harding House for Sustainable Living, a renovated residence hall that houses BW's sustainability living-learning community.
LEED or Leadership in Energy & Environmental Design, is a green building certification program that recognizes best-in-class strategies and practices.
Harding was designed and constructed with a host of green components including a partially vegetative roof, solar panels, individual energy monitoring, permeable pavers, rain barrels and water-saver showers. The building, located at 77 West Bagley Road, also features a greenhouse, organic garden and indoor bike storage.
Butterfly Garden a Student-led Initiative
Meantime, BW has incorporated sustainable elements into the landscaping that's just been completed behind the remodeled freshman housing complex now known as Davidson Commons.
The new green space, formerly used for parking, includes native plantings and a butterfly garden recommended by a student sustainability panel.
"Big Belly" Uses Smart Technology to Manage Waste Collection
Across campus, a new solar powered trash compactor and recycling system is now at work outside the Strosacker Hall student union. The BigBelly Solar Intelligent Waste & Recycling Collection System uses cellular data to transmit when the units need to be emptied.
Recognized as "a rising regional and national star in green education," BW was the recipient of a Crain's Cleveland Business 2010 Emerald Award for leadership in both teaching and implementing sustainable business practices.