Baldwin Wallace Establishes Partnership With Lake Erie College of Osteopathic Medicine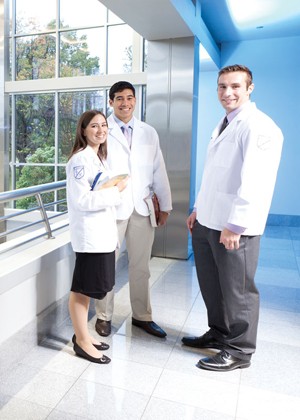 New agreement means BW students will be eligible for early acceptance to LECOM's three-year primary care program.
Baldwin Wallace University has entered into an affiliation agreement with the Lake Erie College of Osteopathic Medicine (LECOM) that will give BW pre-med students a distinctive new pathway to becoming a primary care physician.
This is BW's second early acceptance medical school partnership under the umbrella of the new BW Primary Healthcare Advancement Program, an exclusive pre-med track linked with BW's Public Health major and focused on fostering aspiring primary care physicians to address a nationwide shortage.
Early Acceptance into Three-Year Medical School Program
Students accepted into the LECOM program will enter a unique "Primary Care Scholars Pathway (PCSP)," a three-year medical school program for primary care physician training-only. Students graduating from the LECOM program will be eligible to practice Family Medicine and Internal Medicine exclusively, and they finish medical school in just three years.
"Another difference in this medical school program is that PCSP combines unique courses with patient case-based directed study modules with very few traditional lectures, so it's suited for students who thrive outside of the traditional classroom setting and are independent in their learning," explained Dr. Joseph P. Yavornitzky, director of BW's Primary Healthcare Advancement Program.
"PCSP is one of only a few three-year programs for physicians in the country," said Richard Ortoski, D.O., LECOM Regional Dean for Clinical Education. "At LECOM we continue to train more primary care physicians than any other U.S. medical school. We look forward to having Baldwin Wallace graduates enter PCSP and take their place among the primary care physicians among our alumni."
Developing Early Assurance Options for BW Students
Yavornitzky said the new LECOM alliance, added to BW's existing affiliation with Ohio University's Heritage College of Osteopathic Medicine, gives students in BW's Primary Healthcare Advancement Program the opportunity to pursue the right "fit" from two distinctive early assurance medical school options. "We are also working to establish agreements with M.D. schools, so each of our students will truly be able to select a medical school that matches their personal mission," Yavornitzky added.
Students who successfully complete the BW Primary Healthcare Advancement program also should be well prepared to take the new MCAT and to compete for admission to any primary care-focused medical school.
About LECOM
The Lake Erie College of Osteopathic Medicine (LECOM) is the nation's largest medical college and is the only Academic Health Center in the osteopathic profession. The Erie, Pa.-based college and Millcreek Community Hospital are at the core of a highly innovative and affordable medical education system preparing the next generation of health care professionals in osteopathic medicine, pharmacy and dental medicine.