Baldwin Wallace Hosts House Committee Hearing on Veterans' Services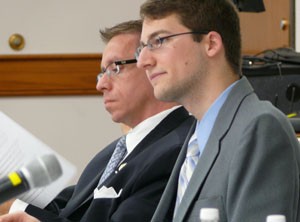 A BW student veteran and an administrator who serves the University's military population were among those testifying as BW played host to a State House committee hearing on veterans' services.
By Rachael Phillips '14
State Representative Michael Dovilla '97, chair of the Ohio House Committee on Policy and Legislative Oversight, called the hearing on the BW campus to focus on the support veterans receive from organizations throughout the state, and in response to the changes being implemented by the Department of Veterans Services.
"Always more work to be done"
Nancy Jirousek, Director of Adult and Continuing Education and head of Veterans' Services at Baldwin Wallace, testified about the needs and challenges for institutions seeking to serve veterans.
"There is always more work to be done to improve support for veterans when transitioning to college," said Nancy Jirousek. "It is often a matter of making the right connection, and having a support system in place that provides veterans with the tools they need to succeed in reaching their educational goals."
Surviving spouses and children "should not be left behind"
Kimberly Hazelgrove, a veteran, military widow and current BW student, also testified, applauding the support she has received at BW as she continues her education following nine years of service in the Army. Hazelgrove also proposed that Veterans receive international relations course credit "for working and living abroad," and noted one area of military support services that she believes is "missing" from Ohio benefits.
"In any legislation you enact for military and veterans," Hazelgrove urged the Committee, "a surviving spouse and/or child should not be left behind… I do not see many services or active support directed to Surviving Spouses and Children of our fallen."
Hazelgrove's husband was killed during a 2004 helicopter combat mission in Iraq. He was only 29 when he died, leaving Kimberly and four young children behind.
BW is Yellow Ribbon and Military Friendly
Hazelgrove is among 95 veterans enrolled at BW for the fall semester. The University is designated as a Yellow Ribbon University by the U.S. Department of Veterans Affairs, which enables qualifying post 9/11 veterans to attend BW tuition free.
BW also was once again named a "Military Friendly School" for 2014 by GI Jobs Magazine, a list recognizing schools in the top 20% "the offer the best support, flexibility, and value for post 9/11 veterans pursuing an education."
Veterans considering enrollment at BW are encouraged to contact the BW Office of Admission, which is located in the Durst Welcome Center, 115 Tressel Street, Berea OH 44017. Admissions counselors trained in the assistance of veteran students' educational needs are available to assist in the application process.