Community Spirit, Gridiron Win and Yellow Jacket Royalty Highlight Homecoming 2014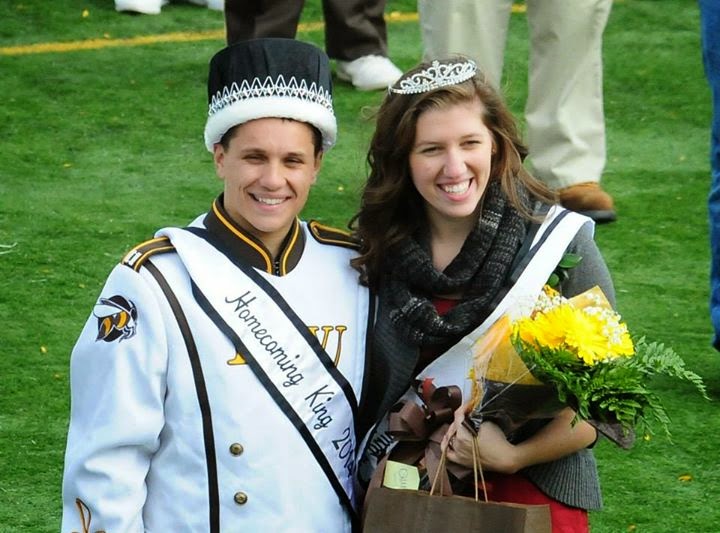 Baldwin Wallace University's Homecoming Weekend had the whole Yellow Jacket community abuzz. To kick off the festivities, over 300 students attended the Homecoming Pep Rally with performances from dance groups such as Urban Dance Association and the BW Cheerleaders. After the BW Marching Yellow Jackets had the crowd on their feet and President Helmer revved the crowd up with a pep talk, Alex Papke '18 and Lauryn Wright '18 were named as the 2014 Jacket Prince and Princess.
On Saturday, the morning began with Alumni reunions and the Homecoming Parade where several Baldwin Wallace organizations put together parade floats to be judged by BW faculty and staff. After the parade, the the Yellow Jackets took on the Muskingum University Fighting Muskies.
Away from the football action, the 2014 Homecoming King and Queen were announced, with Rudy Kuntz '16, a Finance major from Seven Hills, Ohio, and Brianna Razzante '15, an Early Childhood Education major from Solon, Ohio wearing the crowns.
With a final score of 35-7, a Yellow Jacket win ignited the crowd in fierce applause. After the game, Luke Riemenschneider '15, defensive end, won the Frank Ropollo Award as the Player-of-the-Game.
To cap off the weekend, the Sophomore Class Officers hosted a Homecoming Dance for students in the Student Activities Center.