Baldwin Wallace University High School Service Challenge Results in Deluge of Diapers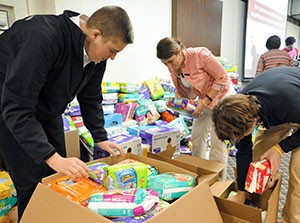 Students from nine local high schools rose to BW's first High School Service Challenge, responding with a mountain of diapers for local charities.
With service a key value on the BW campus, the University rallied Northeast Ohio high schools to collect as many diapers as possible for the 31 days of October. The high school students responded in a big, generous way, producing close to 15,000 diapers!
Padua, Highland and Westlake Top the Challenge
Padua Franciscan High School in Parma was the inaugural challenge winner, with the order of finish determined by donations per student enrolled. Padua collected 3.7 diapers per student, followed by Highland High School in Granger Township near Medina in second and Westlake High School, which collected the greatest actual number of diapers, taking third place.
Other area high schools that contributed generous donations included Lutheran West, St. Ignatius, St. Joseph Academy, Shaker Heights, Strongsville and Wooster.
Local Nonprofits to Benefit
A collection of 90 packages of baby wipes and 17 tubes of diaper cream, largely donated by the BW community, will be added to the supply of diapers to be distributed to Providence House, The City Mission's Laura's Home Women's Crisis Center, and West Side Catholic Center.
BW's Office of Admission and Office of Community Outreach coordinated the service collaboration to expand and highlight the service opportunities that are a vital experience for Baldwin Wallace's well-rounded student body.
Representatives from the participating high schools were honored at a November luncheon on the Berea campus, which also featured BW community outreach leaders and appreciative ambassadors from the nonprofit beneficiaries of the project.