Baldwin Wallace University Joins National "Generation Study Abroad" Initiative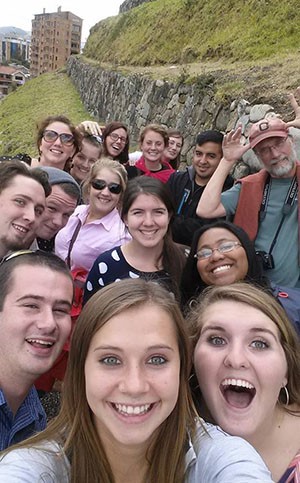 Baldwin Wallace University has joined forces with the Institute of International Education (IIE) to dramatically increase the number of students who gain international experience through study abroad programs. With a goal of increasing the student study abroad participation from 15 to 30% in the next five years, BW joins a "Generation Study Abroad" coalition that encompasses 450 partners to date.
IIE's Generation Study Abroad initiative seeks to mobilize resources and commitments with the ambitious goal of doubling the number of U.S. students studying abroad by the end of the decade. Under its newly declared partnership, BW will take concrete, action-oriented steps to expand opportunities for study abroad.
Stepped Up Communication, Coordination and Incentives
"BW's plan includes the creation of study abroad liaisons for each of our eight schools who will be trained to advise faculty and students on specific study abroad opportunities," said Christie Shrefler, BW's director of Explorations/Study Abroad. "The Provost also will initiate an incentivized internal "challenge" to each of the eight schools to double their own study abroad numbers."
BW also will encourage faculty to develop new faculty-led programs and work to boost awareness of study abroad options on campus.
Study Abroad Experience is Career Valuable, Life Changing
IIE launched Generation Study Abroad this year in the belief that the number and proportion of today's students who graduate with an educational experience abroad is far too low. Currently, fewer than 10 percent of all U.S. college students study abroad at some point in their academic career. The figure at BW is higher (15%), but the University believes the value of the experience warrants the intentional commitment to move participation rates up.
"Students who study abroad tell us the experience is life and career changing,"said BW Provost Stephen Stahl. "Graduates with global experience are often more attractive job applicants as well."

"Employers are increasingly looking for workers who have international skills and expertise," says Dr. Allan Goodman, president of IIE. "Studying abroad must be viewed as an essential component of a college degree and critical to preparing future leaders."