From Classroom to Career: Nursing Grads Succeed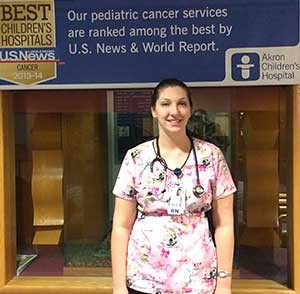 First graduates of BW's new Accelerated Bachelor of Science in Nursing program are on their way to rewarding careers having impressively passed the licensure exam required to become a registered nurse.
Among the 19 graduates, 18 individuals who took the challenging NCLEX-RN (National Council Licensure Examination for Registered Nurses) passed it on their first try. BW's pass rate of 94.7 percent ranked it among top nursing programs in Ohio. The state average was 80.16 percent for first-time test takers.
Creating "Competent, Caring New Nurses"
Lauren Meeks '13, was the first one to pass the exam. She recently accepted a position as a pediatric nurse with Akron Children's Hospital.
Like other program participants, she already had a bachelor's degree prior to enrollment. She needed the coursework and clinical experience that would make her eligible to take the NCLEX-RN.
"I found BW's accelerated nursing program to be more challenging than my first degree yet more rewarding upon completion. Its concept-based approach facilitated learning the material. This helped in studying and passing the licensure exam," she explained. "The 12-hour clinical rotations gave me a realistic picture of nursing."
Like Meeks, Nicole Schroeder '13, is finding her new career path to be personally and professionally fulfilling. She spent 11 years as a teacher. Today, she is a nurse at Southwest General Health Center in Middleburg Heights. Soon, she hopes to be certified to administer chemotherapy to patients.
"The program was very rigorous and fast paced. The faculty brought many experiences and specialties to the program. Our professors were caring and challenging at the same time. Their goal was to help us become competent, caring new nurses," noted Schroeder.
Meeting Critical Healthcare Needs
Building on the success of its healthcare programs, BW initiated its 12-month post-baccalaureate nursing program in August 2012 in response to an increasing need for RNs at hospitals, clinics and public health agencies.
The current class includes 29 students ranging in age from 22-57. Among them, there are 23 different undergraduate majors represented. Interestingly, one student has a medical degree from India and another was a combat medic who did two tours in the Middle East.